Chocolate chip cookies are supposed to be a delicious treat, and these are no exception.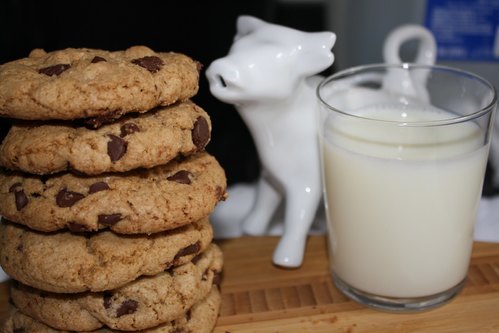 Yes, I swapped half of the white flour for fiber-filled, antioxidant-packed whole wheat flour, but they still taste exactly like a delicious chocolate chip cookie should. My fiancé, who topped his cookie with vanilla bean ice cream (yum), couldn't even tell I made the substitution. I think the special flour makes them taste even better – but I'll let you be the judge…after you give them a try.
Whole Wheat Chocolate Chip Cookies
Ingredients
1 cup all-purpose flour
1 cup whole wheat flour
1/2 teaspoon baking soda
1/2 teaspoon salt
3/4 cup unsalted butter, melted
1 cup packed light brown sugar
1/2 cup white sugar
1 tablespoon vanilla extract
1 egg
1 egg yolk
1/2 cup semisweet mini chocolate chips
1 cup chocolate chips
Directions
Preheat the oven to 325 degree. Lightly grease cookie sheets.
Sift together the two flours, baking soda, and salt. Set aside.
In a medium bowl, cream together the melted butter, brown sugar, and white sugar until well blended.
 Beat in the vanilla, egg, and egg yolk until light and creamy. Mix in the sifted flour mixture until just blended.
Stir in the chocolate chips. Drop rounded balls of cookie dough onto the greased cookie sheets, about 3 inches apart.
Bake for 15-17 minutes, or until the cookies are lightly browned.
Cool on baking sheets for 5 minutes before transferring to wire racks to cool completely.