This whole grain wheat berry salad will add a burst of color to any Thanksgiving table. Chunks of roasted butternut squash are tossed with bright pomegranate arils, sliced green apple, baby kale and candied walnuts, all bundled up in a warm cider vinaigrette.

Wheat Berry Harvest Salad with Roasted Butternut Squash & Warm Cider Vinaigrette
Ingredients:
Serves 6 as main course, or large party as side dish
Note: I got almost all the ingredients at Trader Joes – one-stop shopping! You can buy the most time-consuming ingredients pre-washed, pre-chopped and ready to go.
For the salad and toppings:
1-½ cups wheat berries
1 medium butternut squash, peeled, seeded and cut into 1-inch cubes
2 tablespoons olive oil
5 sage leaves
Kosher salt and freshly ground pepper
5 ounces baby kale, washed and dried
1 cup candied walnuts
½ cup pomegranate arils
1 Granny Smith apple
*Shaved Parmigiano-Reggiano (optional)
For the dressing (adapted from Ina Garten):
¾ cup orange juice
2 tablespoons apple cider vinegar
2 tablespoons minced shallot
2 teaspoons Dijon mustard
¼ cup extra virgin olive oil
Kosher salt and freshly ground pepper
Instructions:
Preheat oven to 425 degrees.
Bring 3 cups of water to a rolling boil. Add 1-½ cups of wheat berries and simmer on low for 30-35 minutes.
Toss the squash and sage leaves with olive oil, salt and pepper. Roast on a baking sheet for 30 minutes, turning once, until tender and lightly brown.
Thinly slice baby kale.
Thinly slice Granny Smith apple.
Make the dressing: In a small saucepan, combine the orange juice, cider vinegar and shallots. Bring to a boil over medium-high heat and cook for 6-10 minutes, until mixture has reduced to ¼ cup. Off the heat, whisk in mustard, olive oil, salt and pepper to taste.
Assemble the Salad: Add the wheat berries, squash, kale, walnuts, pomegranate arils and sliced apple to a large bowl. Crumble roasted sage leaves on top. Toss with dressing and taste. If desired, sprinkle kosher salt and pepper on top to taste and re-toss. Serve with shaved Parmigiano-Reggiano on top (optional).
Timesaving Shortcuts (my favorite!):
Prepare the wheat berries ahead of time
Buy triple-washed baby kale, candied walnuts, pre-cut butternut squash, pomegranate arils and 100% orange juice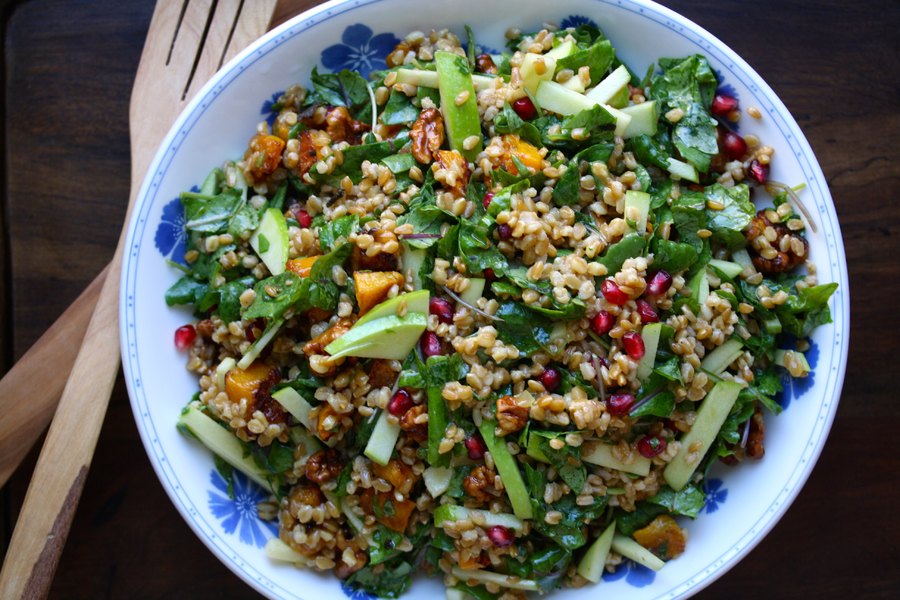 Happy soon-to-be Thanksgiving all!