Hi! So glad you could make our Wednesday lunch date this week. (If you're on the West Coast like me, I'll "see" you for lunch in a few hours!)
I have a lot to catch you up on! Please feel welcome to share any of  your favorite health news and recipes in the comments below.
Here's what I've been up to this past week:
What I've Cooked Lately That Was AWESOME:
Spinach, Mushroom, and Fontina Frittata – The Fountain Avenue Kitchen (Adam made this for dinner with Italian chicken sausage, and I contributed a farmer's market fresh salad. Are there enough words to express how good this frittata is? No. No, there are not)
Whole-Wheat Date Nut Bread – Whole Living (I tore this recipe out of the now-defunct <tear> Whole Living years ago and finally got around to making it. So awesome. Topped with whipped cream cheese? Perfection! Baking note: Don't drain the dates. Keep them in the water and stir in the ingredients as directed. The instructions are a little unclear)
What I'm Reading:
Food Trends:
Healthy Eating:
Exercise:
Lifestyle (Home, Relationships, Organization, Psychology, Happiness, Art, DIY Crafts):
What I'm Salivating Over:
Breakfast
Main Course
Dessert
Fun Food Quiz!
What Food Matches Your Personality? – BuzzFeed (I got pizza!)
The Week in Photos:
Since I couldn't upload photos last week, I'm including some shots from the California Dietetic Association's Fall Leadership Meeting two weeks ago. The photo on the left is of me and National Spokesperson Vandana Sheth and the one on the right is with the two women I work most closely with on public policy (Ashley Rosales and Lorri Holzberg). I love promoting my profession and getting to work with – and learn from – so many talented dietitians.
Last week, I attended a sponsored trip with the California Almond Board and visited almond orchards in California's Central Valley. I'll have a whole blog post recapping the trip with photos and a few fun videos soon.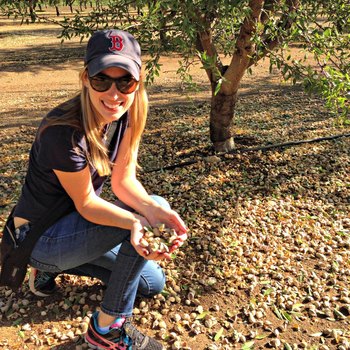 One more photo from the Almond Tour (with my Boston Red Sox hat of course). Hanging out with almonds that were JUST shaken down from the tree.
I had a craving for date nut bread so I dug through my tear-out recipe book (some of those recipes go wayyy back – pre-Pinterest back), and found a whole wheat version from Whole Living magazine. It came out perfectly. I promptly gave half to my date-nut bread-loving sister, and kept the rest for my greedy little self. 🙂 I scooped up the last of the season's stone fruit from the farmer's market, and cut it up for a fruit bowl which we finished relatively quickly…I also cut up some celery for weekly snacking. I find keeping them upright in jars filled halfway with water keep them crisp for the next few days.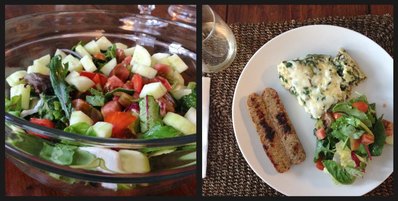 Adam made a crazy good dinner. We started talking about what to have for dinner in the afternoon, and for some reason I thought "frittata!" And then "with mushrooms…and…fontina." So I went online and tracked down a simple cream-less recipe from The Fountain Avenue Kitchen, which he made perfectly. Along with Italian chicken sausage. I was in charge of the salad, with ingredients I picked up at the farmer's market that morning (cucumber, mixed greens, and heirloom tomatoes). A-MAZING. And for dessert, we shared a mug of Trader Joe's chocolate-vanilla caramel swirl ice cream. Sunday? We owned it.
Be well! See you for another mid-week lunch date next Wednesday!
Any favorite recipes, new products, articles, or quizes you'd like to share?