Hello! I'm sorry I disappeared for so long…I just crawled out from under a pile of grad school papers and tests. All this sunlight is making me squint.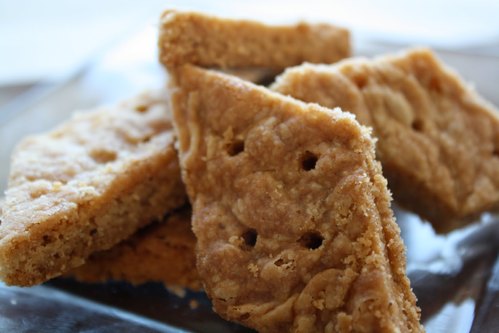 This morning I took all of the piles of paper on my kitchen table and put them away because they are just ghosts of assignments past now. When my apartment's clear, so is my head. And when my head is clear, all I want to do is bake something. So in the name of asking for your forgiveness and celebrating crossing many items off my to-do list (yes, an actual yellow legal pad to-do list), I baked walnut shortbread. Because nothing says please keep reading my blog and yay I'm done with my independent study like walnut shortbread.
A lovely visitor asked me if I could start posting the nutrition facts for my recipes. I think that's a terrific idea and I'm going to do my best to get them up. I may not get them up as fast as my posts, but they'll be there. I've decided to only post the nutrition facts for things I cook, not things I bake. I want my blog to focus on healthy meals and decadent desserts, and if you know how unhealthy desserts are, they go from life's simple pleasure to life's guilty pleasure. Let's face it, if you're eating shortbread, you know it's not going to be good for you, especially when you make it yourself and you see the stick of butter getting whirled around with the confectioners sugar.
However, this is for you all – so, if you think I should post nutrition facts for everything, some things, or nothing, let me know! My kitchen's open for a good discussion.
Walnut Shortbread (Adapted from Martha Stewart Living, March 2010)
Tools: 9″ round cake pan; cuisinart or device to get walnuts from chopped to ground; hand beater or stand mixer
Ingredients:
1/2 cup walnuts, toasted
1 cup all-purpose flour
1/4 teaspoon salt
1 stick unsalted butter, room temperature, plus more for buttering the pan
1/2 teaspoon pure vanilla extract
Instructions:
Preheat the oven to 325. Pulse walnuts in food processor until finely ground. Transfer to a bowl and whisk in flour and salt.
Beat butter, sugar, and vanilla until pale and fluffy. Add the walnut mixture in thirds, beating until just combined in between each addition.
Butter a 9-inch round cake pan. Transfer dough to pan. Using a piece of plastic wrap, press the dough evenly into the pan (so it will stick to the pan – not your fingers). Cut dough into wedges using a paring knife or bench scraper. Prick all over with a wooden skewer or fork. (Don't worry about being perfect – it'll rise and blur all of your pretty cuts)
Bake until golden brown and firm in center, 25-35 minutes. Transfer to pan on a wire rack. Recut into shapes (wedges, squares, whatever you'd like) and prick again. Let cool slightly. Dust with confectioners sugar (optional).