This trip was sponsored by the Almond Board of California. They did not pay for my blog post and all opinions are my own.
Last Monday, I visited one of California's almond orchards on a trip sponsored by The Almond Board of California. Or as they would say in the Central Valley, an "amond orchard." Pronounced with the silent "l" like "salmon." Apparently if you grow almonds, you call them "amonds." The farmer that showed us around didn't understand why the rest of us don't just get on board – we don't question the pronunciation of "salmon" after all. I see his point. And I kind of love the whole "amond" thing, so I may just be adopting it.
I got to spend two days learning about almonds with 20 other Registered Dietitian Nutritionists and healthy food bloggers. One afternoon, we learned all about the science and promotion of California almonds, and how farmers work toward a sustainable future. The following day, we hopped on a bus and drove to Stewart & Jasper Orchards, a multi-generational family farm about two hours south of Sacramento.
If you're like me, you've been eating almonds for years without knowing how they grow or get to your local store. A sad commentary on our current food system? Maybe. An opportunity for learning and growth? Absolutely! It's never too late to learn where your food comes from, and I'm happy to report, almonds have a very cool path.
Here are basic facts about almonds:
Almonds grow on trees (first things first)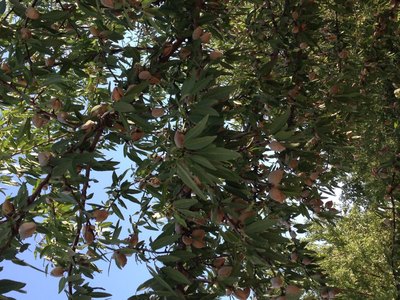 100% of almonds commercially grown in the U.S. come from California's Central Valley
Almonds are California's #1 agricultural export and the top U.S. specialty export crop
72% of almond farms are family owned
They're shaken off of the trees, swept out into the middle of the grove and dry in the hot sun until they're ready for processing
Here's a short video of a shaker shaking almonds off of the tree. For some reason, I laughed every time I saw it happen. There's something hilarious about an almond shower. See for yourself (turn down the volume – it's loud):
Almond growers are very concerned about the current, severe drought in California. The Almond Board has been working for over 20 years to research water efficiency, and innovative irrigation and farming practices by California's almond growers have led to a 33% drop in water use per pound of almonds. Some examples of newer farming practices include moving from flood irrigation to micro/drip irrigation and using soil moisture monitoring systems so they knew precisely how much water is left in the soil
Almond trees make THREE products! Almonds grow inside a shell inside a hull. The hulls and shells are used for livestock feed. All parts of the almond are used – none of it is wasted
And some fun facts that you can use as nerdy dinner-table conversation:
Almond trees grow out of peach trees. Farmers plant peach trees and then graft almond rootstock into a peach tree stump and the almond tree grows right out. How cool is that.
They rely on honeybees for pollination. Almond blossoms can't pollinate with blossoms on the same tree, so honeybees carry the pollen to another tree. Thanks bees!
Pickled green almonds (before they turn brown) are a delicacy. One I'm curious to try now…
In India, mothers soak almonds in a small bowl overnight and in the morning, they peel the skin off the almonds and give to their children as a demonstration of love
Almond Nutrition & Health:
Just 1 serving of whole almonds (1oz = 23 almonds = ¼ cup) packs 6 grams of satisfying protein and 4 grams of fiber for just 160 calories.
And a serving is actually less than 160 calories…Not all of the almond gets digested, so it's about 10-20% fewer calories than we used to think – it's really about 130 calories. Those 100 calorie packs are really just 80 calories.
Almonds help maintain a healthy heart and healthy cholesterol levels
Has all this talk about almonds made you hungry? If so, I highly recommend some of those basil pesto almonds (recipe here).
And if you can ever get your hands on roasted almonds in their shells, you've gotta do it. I took a bag home and have been happily snacking on them ever since. It takes longer to eat them because you have to take the shell off, which prolongs snacking and helps you feel full before you accidentally overeat. Plus, they taste totally different – reminds me of eating almond butter. You can order them online from Stewart & Jasper Orchards, but please let me know if you ever see them in a store or at a farmers market!