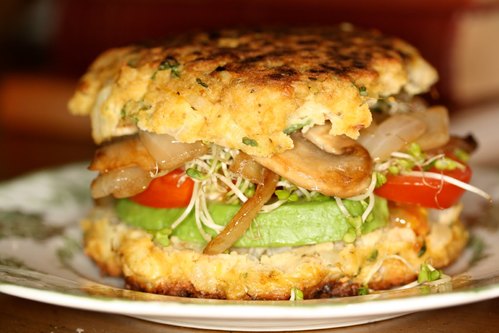 This chickpea-based veggie dinner is both burger and bun. While you can stuff it with whatever vegetables you want, I chose to go with, well, everything. Sautéed mushrooms and vidalia onion, brocco sprouts, tomato slices, and avocado. The veggie burger is moist, but firm enough to sandwich the fillers.
If you have leftovers (and unless you live with 6 people, you will), freeze them and defrost for a quick, healthy dinner another night.
Veggie Burger (adapted from 101cookbooks.com)
Ingredients for Burger:
2 1/2 cups (1.5 cans) canned chickpeas/garbanzo beans, drained and rinsed
4 large eggs
1/2 teaspoon fine-grain sea salt
1/3 cup chopped fresh parsley
1 onion, chopped
Grated zest of one large lemon
1 cup toasted (whole-grain) bread crumbs
2 tablespoon extra-virgin olive oil
Toppings/Stuffers:
Avocado slices
Tomato slices
Brocco sprouts, rinsed well and dried
White mushrooms, sliced
Vidalia onion (it's sweet), sliced
Instructions:
STEP 1: Combine chickpeas, eggs, and salt in a food processor. I of course used my immersion blender instead – works just as well but requires a little more tricep effort. Puree until mixture looks like thick, textured hummus.
STEP 2: Stir in the parsley, onion, and zest.

STEP 3: Stir in the breadcrumbs
STEP 4: If the mix looks too wet, add some more breadcrumbs. But don't be too quick to dry it out because it will just make a dry burger. If it looks too dry, you could use some more water or eggs to moisten the mix.
STEP 5: Heat 1 tablespoon of oil in a pan. Add sliced mushrooms and viadlia onion and saute until soft and and brown. Remove from heat. (feel free to taste test multiple times while the patties cook)
STEP 6:
While the mushrooms and onions saute, heat the remaining oil in a heavy skillet over medium low, add 4 patties, cover, and cook for 7 to 10 minutes, until the bottoms are golden brown
STEP 7:
Flip the patties, cover again, and cook for 7 minutes, or until golden.
STEP 8: Remove from the skillet and cool on a wire rack while you cook the remaining patties. Carefully cut each patty in half (don't try to be perfect), insert the fillings, and EAT (or devour, whichever comes first).