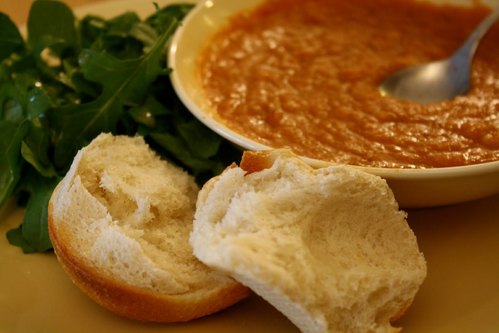 School's already cancelled for tomorrow! Thank you winter blizzard – I needed a day to catch up on all my work.
Since I have a food blog, what do you think is going to be first on my list of things to do tomorrow afternoon? Walk around outside and marvel in the beauty of a snowy New England morning? Maybe. Bundle up, strap on my snow shoes, and take a long trudge through the city? Heck no. I don't even own snow shoes. (Although if I did, that would actually probably be really fun now that I think of it).
Ok, fine, I'm obviously going to cook something. The tomato soup I'm making gets its creamy taste from the white beans. It's hearty without being heavy – perfect for a snow day when you'd like a lunch that will fill you up without putting you back to sleep.
If you're getting snowed in tomorrow too, check your cupboards or grab these basic ingredients for this warm, healthy lunch. I think it's best served with a roll hot from the oven (check the "healthy" freezer section in your grocery store) and a small side salad. You could try arugula with your favorite vinaigrette and a little shaved parmesan on top.
Tomato White Bean Soup (adapted from Judith Barrett's Saved by Soup)
Ingredients:
2 teaspoons olive oil
1 yellow onion, chopped
2 large garlic cloves, pressed or finely minced (time saver: buy them frozen at your grocery store)
4 cups canned (drained and rinsed) Great Northern beans or other white beans like cannellini
2 cups canned chopped tomatoes, with juices
4 cups vegetable broth
1 fresh or dried sage leaf
Salt and pepper
1/4 cup chopped fresh parsley
Instructions:
Heat the oil in a heavy 4-qt saucepan over medium-high heat.
Add the onion and garlic and cook, stirring, until the onion softens (about 3 minutes).
Stir in the beans, tomatoes, and sage leaf.
Add the broth, and crank the heat to high.
Bring to a boil.
Reduce the heat to low, cover the saucepan, and simmer for 20 minutes.
Remove and dispose of the sage leaf.
Using an immersion blender (or transfer and blend in a food processor or blender), puree the soup.
Season with salt and pepper to taste.
Reheat if necessary and stir in parsley right before serving.