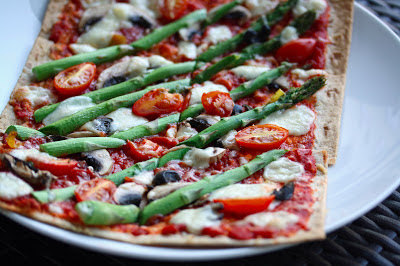 While I love pizza – l.o.v.e., – I don't always like the greasy, where-are-my-sweatpants feeling I get after eating pizza. When I really want a heavy, cheesy, greasy New York style slice, I have one. But sometimes I just want the taste of pizza. A pizza that doesn't make my face feel oily.
That led me to create an easy, super thin, heavy on the veggies and light on the cheese pizza.
You can make a single-serve pizza with one or two thin pieces of lavash or flatbread. Or, have a pizza-making party or family dinner, where everyone makes their own 'za. (And kids – and adults – can make funny faces out of veggies and chicken sausage).
(1 flatbread per person)
Ingredients:
1 Whole Grain Lavash (flatbreads like those from FlatOut work well too)
3 tablespoons of marinara sauce
Sliced veggies (see ideas below)
Cooked meat like chicken or Italian turkey sausage (optional)
Small chunks of fresh buffalo mozzarella
1 Tablespoon of grated Parmesan cheese
Fresh basil and/or cracked red pepper (optional)
Preparation:
Preheat the broiler while you slice your veggies and grate the cheese.
Broil the flatbread on a baking sheet for 1 minute before you put the toppings on.
Remove from the oven and preheat to 450 degrees Fahrenheit.
Top the flatbread with all ingredients from marinara sauce through Parmesan cheese.
Bake for 15 minutes, until cheese is melty. Top with basil and/or cracked red pepper if desired.
Slide off the baking sheet onto a cutting board and slice into rectangles.
Other Topping Suggestions:
Marinara + Halved Cherry Tomatoes + Mushrooms + Sliced Black Olives + Asparagus + Mozzarella + Parmesan (pictured)
Pesto + Sliced Chicken + Asparagus Spears + Mozzarella (slice the aspragus lengthwise for even cooking)
Marinara + Thinly Sliced Red Onions + Black Olives  + Sliced Green Bell Pepper + Feta Cheese
Top any pizza with fresh arugula or spinach
Please share your favorite pizza toppings in the comments below!