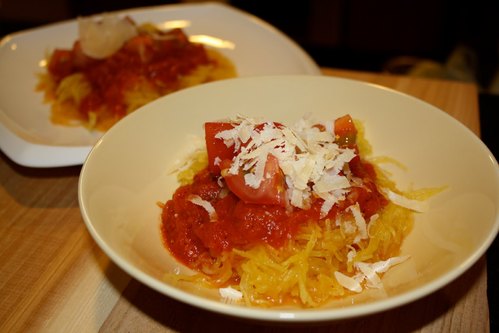 I love pasta sauce, but I don't always feel like eating a carb-heavy meal at night to get my fix. Enter, spaghetti squash. It looks like spaghetti, and you can smother it with your favorite tomato sauce and dust with freshly grated parmesean cheese.
How does 1 cup of spaghetti squash stack up against 1 cup of enriched white pasta?
(note: the serving size of pasta is normally 1/2 cup, but since hardly anyone sticks to that, I did my analysis on 1 cup of each)
The Good: Spaghetti Squash is…
1) Lower in calories: 42cals v. 221 cals
2) Lower in carbs: 10 g v. 43.2 g
3) Higher in Calcium, Vitamin K Vitamin C, Choline, beta-Carotene, and Vitamin A
The Bad: Spaghetti Squash is…
1) Lower in protein: 1g v. 8g
2) Lower in folate: 12 micrograms v. 102 micrograms
The bottom line: Don't stop eating pasta if you love it. It's high in protein and folate, which is important for women of child-bearing age or who are pregnant (thank you fortification). BUT, try swapping a few pasta dinners with spaghetti squash. It's a low-cal, low-carb alternative that's high in the vitamins and minerals you may not be getting enough of every day.
The Recipe (step-by-step):
1 spaghetti squash, sliced in half (half will serve 2 people)
Your favorite pasta sauce (mine is Rao's marinara sauce)
Freshly grated parmesan
Cherry tomatoes
STEP 1: Clean the outside of your squash

STEP 2: Cut the squash in half. This is not easy, but you can do it with a sharp knife and some wonky moves to help guide the knife through. (just be careful!)

STEP 3: Fill a microwave safe dish (that fits the squash) with water so it just covers the bottom. Place the squash flesh side down in the water

STEP 4: Microwave on high for 13 minutes
STEP 5: Using a fork, run the tines across the squash widthwise to make spaghetti

STEP 6: Put in a colander to allow excess water out. Then place in dish, cover with warm sauce and garnish with freshly chopped cherry tomatoes and grated parmesan