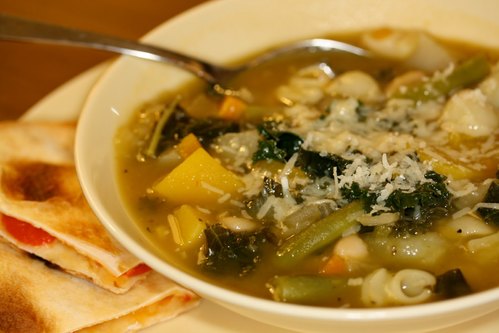 This hearty, seasonal vegetable minestrone soup is brimming with protein, antioxidants, fiber, and flavor. Serve it with a low-fat roasted red pepper and cheese quesadilla (ready in under 10 minutes) and you've added a new meal to your dinner arsenal.
Note: When you're chopping the vegetables, don't worry about how they look, or if they're exactly 3/4-inch thick. Just ask yourself if they're the size you'd want to eat in a spoonful of soup. If the answer is yes, move on. Soup is not about perfectionism. It's about deliciousness.
Time saver option: buy pre-sliced and peeled butternut squash (easy to find at most grocery stores)
Vegetable Minestrone Soup and Quick Quesadillas (Adapted from Cooking Light)
Soup Ingredients:
1 Tablespoon vegetable oil
1 cup chopped onion
2 garlic cloves, minced
6 cups low-sodium vegetable broth
1/2 a medium butternut squash, peeled and cubed
1 large potato, peeled and cubed
2 diced carrots
4 cups kale, chopped

1 teaspoon dried oregano

1/4 teaspoon black pepper
1/4 teaspoon salt
3/4 cup macaroni
1 16-ounce can navy beans or other white bean, rinsed and drained
1/2 cup grated fresh Parmesan cheese
Soup Instructions:
Heat oil in a heavy-bottom soup pot or Dutch oven over medium-high heat.
Add onion and garlic; saute 3 minutes.
Add broth and next 7 ingredients (through salt) and bring to a boil.
Reduce heat and simmer for 3 minutes.
Add kale, pasta, and beans. Cook 5 minutes or until vegetables are tender.
Serve in bowls and garnish with grated cheese.
Prep these sandwiches while you're waiting for the soup to boil. Crank the broiler when the soup's done and you're about ready to serve.
Quesadilla Ingredients:
6-inch flour tortillas (like Mission Carb Balance tortilla)
Your favorite reduced-fat shredded cheese
1 bottle roasted red bell peppers (size depending on how many you're making)
Quesadilla Instructions:
Spread tinfoil on a baking sheet and spray with cooking spray or olive oil mist.
Place tortillas on baking sheet.
Cover each tortilla with 2 tablespoons of cheese and 2 tablespoons of chopped roasted peppers.
Top with another tortilla and spray with cooking spray or olive oil mist.
Place baking sheet on top oven rack under the broil, and broil for 3 minutes or until lightly browned.
Carefully turn quesadilla over and broil another 3 minutes.
Cut into quarters and serve 4 triangles with each bowl of soup.