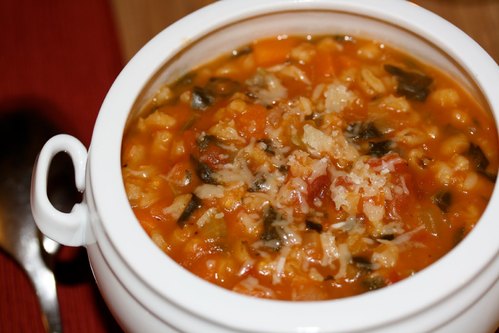 Today's Soup's On Sunday is Tomato Barley Soup. It was going to be "Zuppa of Farro with Tomatoes and Spinach" but farro is $7.00 and barley is $2.99, so barley it is! This is a thick, hearty, cold-weather soup full of colors (which means it's also loaded with antioxidants and vitamins).
If you want to use farro, you only have to cook the soup for 30-35 minutes. Choosing barley? You're looking at an hour. The recipe is designed for farro, so when I cooked it with barley and had to keep it on the stove longer, a fair amount of the broth reduced. I'd recommend keeping some extra vegetable broth on hand in case you need to adjust the proportions. (Since leftover soup tends to thicken in general, it's always a good idea to have extra broth around when you're reheating it).
Tomato Barley Stew (adapted from Judith Barrett's Saved by Soup)
6 servings
Ingredients:
1 teaspoon olive oil
1 medium onion, finely chopped
2 medium-sized carrots, finely chopped
1 rib celery, trimmed and finely chopped
2 cups canned chopped tomatoes, with their juices
4 cups fat-free, low-sodium vegetable broth
1 cup pearled barley or farro
4 cups loosely packed, rinsed, and rough-chopped fresh spinach leaves
Salt and pepper to taste
Freshly grated Parmigano-Reggiano cheese for garnish
Instructions:
Heat oil in a heavy saucepan over medium-high heat.
Add the onion, carrots, and celery. Cook, stirring until the onion starts to soften, 2-3 minutes.
Add the tomatoes and broth, and stir in the barley or farrow.
Bring to a boil, and reduce heat to medium-low. Cover and simmer until the barley or farro is tender and the grains are puffy. 30 minutes for the farro and 1-hr for the barley.
Stir in the spinach and cook until tender, about 5 minutes.
Season with salt and pepper to taste, and garnish with grated cheese.