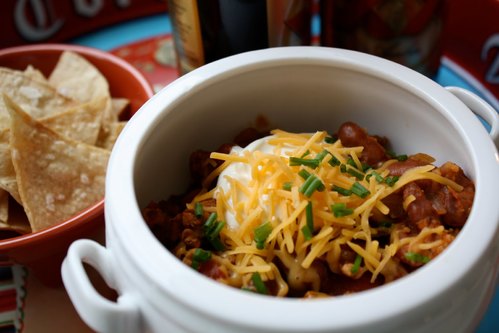 This "one-pot" protein-filled dinner swaps out traditional beef for leaner white meat turkey. Most of the ingredients come straight from your pantry, so if you like this dish, keep the canned ingredients in your cupboard. You cook everything together in a large skillet, minimizing prep and cleanup time.
When you bake your own tortilla chips, you turn down the fat and salt and amp up the flavor. Ditch the store-bought bag for a warm basket of freshly baked chili dippers.
20-Minute Chili: Cooking Light Recipe 
Tortilla Chips:
Ingredients:
1 package of corn tortillas
salt and/or your whatever spice you want the chips to taste like
Instructions:
Preheat oven to 350 F.
Spray tortillas with nonstick oil on both sides.
Cut tortillas into quarters and place on baking sheet
Top with whatever you'd like! I used a thyme-fennel salt on some of them, and cumin or regular sea salt on others. Other flavors you could try are chili powder, garlic salt, or paprika.
Bake until brown and crispy, 12-15 minutes.