Swap your straw for a spoon, and pour yourself a refreshing smoothie bowl.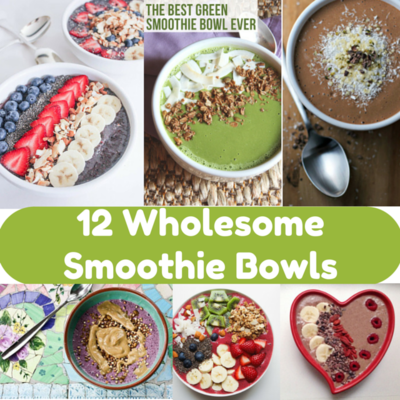 Smoothie bowls are a fun and healthy way to mix up your morning meal, plus you'll add health-boosting (and beautiful!) whole foods like fruit, nuts, and seeds on top.
Chewing your food, rather than drinking it, slows you down, prompts you to be more mindful of what you're doing, and gives your body more time to sense that it's full. You may end up eating less and feeling more satisfied than when you drink your smoothie on the go.
I've seen so many smoothie bowls pop up on my instagram feed, I couldn't resist sharing some of my favorite examples with you.
Wouldn't this be a beautiful way to start your day?
12. Berry Smoothies (Serves Two) – Kath Eats Real Food
Quick Question: Almond Butter or Peanut Butter?