The Burlington, VT Farmers Market is full of delicious local food, and some of it is made for you on the spot. For example, FolkFoods has developed the veggie burger that puts all the other veggie burgers to shame. And they'll throw it in an egg sandwich (they're frying up the eggs in the photo below) with melted VT cheddar cheese on a sesame bagel. I waited all week to get one for breakfast this morning, and it didn't disappoint.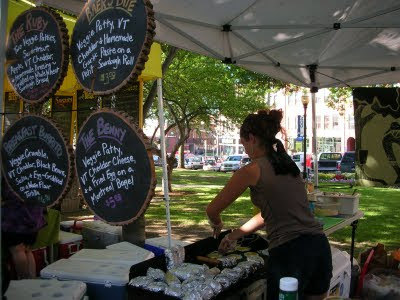 Hiding underneath the creamy, melted cheddar cheese is the veggie patty…
The SamosaMan is a really popular stop, but I don't have the stomach for fried food when I get there around 9AM. I'll have to give it a try next weekend before I leave town.
Chickpeace makes some rockin hummus and tabbouleh – he had a mint hummus out today that tasted somewhat like pesto – would be great on a sandwich.
Here's a shot of one end of the market. You can see the guy on the right is playing his guitar – and you can't tell from the photo, but he's got a great singing voice. Around lunchtime, the grassy area in the middle is full of people picnicking and kids running around with brownies smeared on their mouths, all hopped up on fresh root beer poured out of a wooden cask.
This is a picture of Tim, another intern, at his other job – working for Willow Hill Farm. This farm has some really nice cheeses, especially their Vaquereo Blue. I have a nice big hunk of it in my fridge right now…