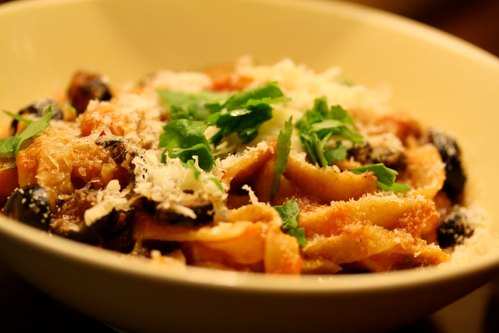 You know when you order pasta at a restaurant and the sauce is thick and sticks to the pasta? You know when you make pasta at home and the sauce is thin and everywhere
but
on the pasta? We're going to fix that. Right now.
There are a three tips that will take you from noodle novice to pasta pro in in 8-10 minutes (that's the average amount of time it takes to cook spaghetti).
Give the pasta a pool party, not a jacuzzi:  Look at the amount of pasta you're cooking and imagine how much room it'll take up in the pot. Now fill the pot with enough hot water to cover the pasta plus about 3-4 inches. Crank it to high and wait for the rolling boil (lots of big bubbles).
Create an Ocean: Grab your salt and start shaking it! You want the water to taste like the sea – it enhances the flavor of your spaghetti while it's cooking and reduces the need to add excess salt at the table.
Sauce the Skillet: While your spaghetti's cooking, pour some sauce into a skillet and heat on low. When the noodles are done, drain them in a collander and then lift them from the collander to the skillet with tongs. Using tongs will reduce the chance that water left in the collander will wind up in your sauce. On medium-low heat, cook the noodles and sauce together, tossing frequently with the tongs or by shaking the skillet. At this time, add any extras to the sauce – broccoli, black olives, capers, etc.
When the sauce is hot, you'll see it's thicker and sticks to the noodles. Slip it into a serving bowl, grate some Parmigiano Reggiano on top, and finish with a sprig of basil.
My recipe: In the picture, I used fresh whole wheat linguini, which cooks in about 2 minutes. I combined that with pasta sauce from a jar, and a handful of sliced black olives in a saute pan. I shaved some Parmigiano Reggiano on top and topped with basil for both style points and taste.
Store-Bought Sauces: 
I tasted 184 jars of pasta sauce with the Real Simple food department this summer, and we narrowed it down to winners in a number of
palate pleasing categories
. While you may always like what you grew up on the best (Prego), you can try navigating the aisle with these taste-tested superstars. Want to mix it up with Pesto? The hands-down best store-bought pesto comes from Sauces 'N Love – it tastes just like homemade and is locally produced in Somerville, MA.