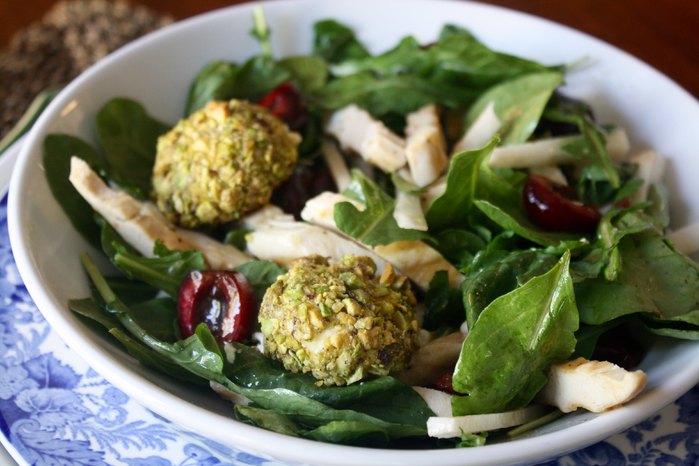 I'm so sorry if you came here by mistake. This is not a boring salad. If you're looking for a boring salad, you should probably leave… This salad has warm, pistachio-crusted goat cheese balls. NBD, but it also has crunchy jicama and sweet cherries. If you like that sort of thing. The grilled chicken makes it a meal and gives it satisfying staying power, while a quick homemade champagne-shallot vinaigrette adds healthy fats, which help you absorb fat-soluble vitamins. It's also dang good the next day. Which is why it's three servings…a perfect dinner for two, plus leftovers for you! (Chef's privilege). xx, Caroline
| | |
| --- | --- |
| | |
Heat up the grill or set a panini press to 'sear.'

Pulse pistachios in a food processor until partially crushed (a few bigger pieces is fine), and put them in a shallow dish

In a separate shallow dish, combine the flour, salt, and pepper

In a small bowl, whisk the egg white

Slice goat cheese log into six slices and roll into balls

Roll the each ball into the flour mixture and tap off any excess. Dip it into the egg whites, and then the crushed pistachios, pressing lightly to coat.

Place the balls on a plate lightly sprayed with cooking spray, cover loosely with tinfoil, and freeze for 20 minutes.

While the goat cheese is chilling, preheat the oven to 350 degrees.

For the chicken, brush each side with olive oil and season with salt and pepper. Pound or butterfly the chicken (cut it in half lengthwise) so it's flatter and an even width throughout. That will help the chicken cook faster and avoid overcooking some parts while undercooking others. Grill until internal temperature reaches 165°F (about 5-6 minutes per side on the grill, and 4-6 minutes total on the Panini press). Keep warm.

Put the goat cheese balls on a lightly greased baking sheet, and mist with cooking spray. Bake for 10-15 minutes, until cheese is sizzling.

For the dressing, whisk together all of the ingredients except the olive oil until blended. Slowly whisk in the olive oil to emulsify. Blend the dressing in a food processor while slowly adding the oil for a thicker, creamier dressing.

Slice the chicken. In a big bowl, combine the sliced chicken, salad greens, grilled chicken, jicama, and cherries. Toss in dressing to your taste, and divide among 3 plates. Top each plate with 2 warm goat cheese rounds and serve.
To prepare the jicama, scrub the outside well with a scrubbing brush and cold water. Peel completely with a vegetable peeler, and cut in half with a sharp knife. Cut the halves into quarters. From there, slice flat pieces, stack them, and cut them into narrow strips.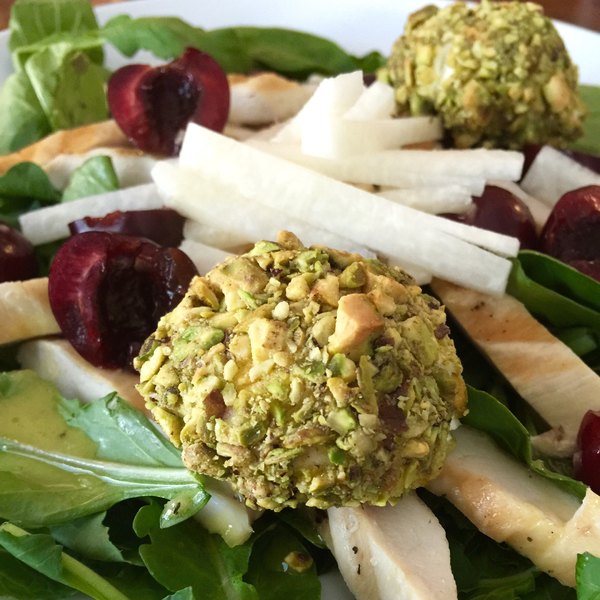 Disclosure: I received the cherries for free from Northwest Sweet Cherries and the pistachios for free from the American Pistachio Growers. I also recently attended a media event for American Pistachio Growers. I was neither asked to write about these foods nor compensated for this post.
I want to hear from you! Are you a fan of warm goat cheese? Digging summer salads? Have you seen Entourage or Jurassic World yet? (We don't have to only talk food you know… 😉