This is the world's best granola, and I'm not afraid to shout it. In the title. In all caps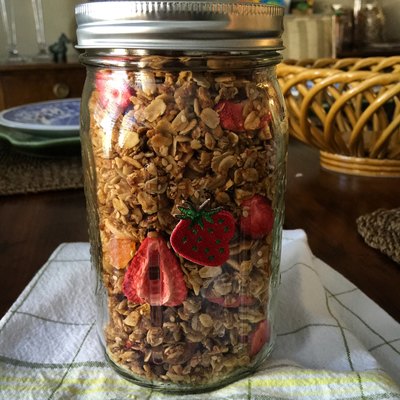 Everyone who tries it literally says, "this is the best granola I've ever tasted." It's like all the ingredients are best friends, and it's all of their birthdays, and they each got the present they wanted the most.
| | |
| --- | --- |
| | |
Position one rack in the middle of the oven, and another on the lowest rack

Put a large piece of tinfoil on the lowest rack (to keep pieces from falling and burning)

Preheat the oven to 300 degrees

In a large bowl, stir together the oats, wheat germ, sesame seeds, brown sugar, cinnamon, and salt

Make a well in the middle of the dry ingredients and add the oil, honey, and water

Toss the mixture until well combined, and spread evenly on a cookie sheet

Bake the granola for 40-45 minutes, until lightly browned, stirring every 10 minutes

Let cool completely, and then stir in the dried fruit.
After doing some extensive research a few years ago, and then again today, I believe this recipe was from a children's magazine called Spoonfuls, which no longer exists. The recipe disappeared with the website, so I'm especially happy to be able to share it here.
(Recipe adapted from the original, which no longer exists)
The toasty sesame seeds have a really unique creamy, almost tahini-like flavor (sesame is the main ingredient in tahini), which adds a depth you don't normally get in granola. Plus, it's not too sweet, which I love because I don't want my 'nola to taste like dessert. When it comes to the dried fruit, just pull on your crazy pants and do whatever you feel like – I don't think you can go wrong. I happen to love the mouth-watering flavor of freeze-dried strawberries and chopped dried mandarin oranges in here. The strawberries are good raw, but they'll also plump up in milk.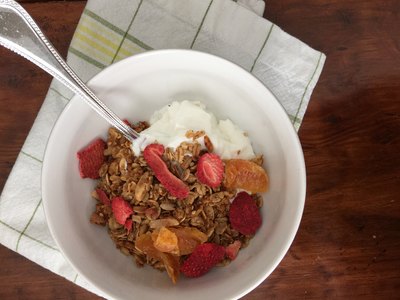 My dear friend
Leslie
originally gave me this recipe during graduate school. She's one of those incredibly thoughtful people who drops off a happy little plant and funny card after a breakup. (I hope you have a Leslie in your life!) So, obviously she laminated the recipe before giving it to me. (She knows I'm klutzy and would probably spill honey all over it).
What's your favorite dried fruit? Share your thoughts in the comments section below!