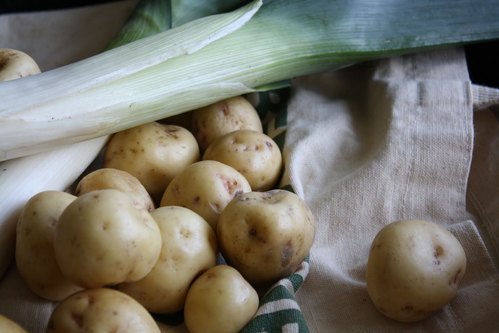 Potatoes and Leeks are like Bert and Ernie. They're fine on their own, but more fun when they're together.
The frigid New England weather got me craving a hearty soup to warm me up from the inside out. Of course, the day I go to the market for said cozy soup ingredients, it randomly hits 65 degrees farenheit. But it's ok. I enjoyed a bowl for dinner tonight and I'll freeze the rest for a snowy day.
This soup is built on vegetables, and veggies alone. You really don't need to add high-fat dairy because pureed potatoes and leeks are rich and creamy on their own. If you've gotta have that extra bit of decadence, swirl it in at the end while you're pureeing.
You can serve it up with softened hunks of Yukon golds and thin snips of leek floating around in a broth, or puree it with a blender if you like it creamy. I am a huge fan of my immersion blender – you just put it in the pot, press a button, and 15 seconds later, you've got creamy soup.
Note: don't buy the teeny yellow potatoes that say "creamy yukon golds." They sound great don't they? And they're so teensy and adorable! FAIL. You wind up having to peel a million of them, nearly slicing off your finger each time. Avoid at all costs and buy the bigger ones.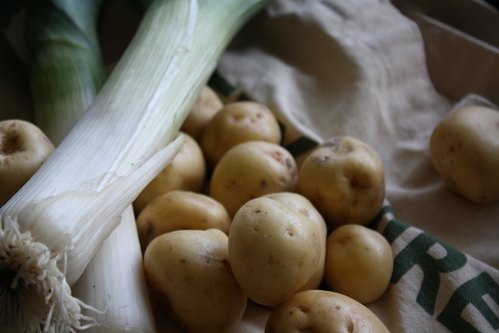 Potato Leek Soup (adapted from Judith Barrett's Saved By Soup) / 6 servings
Ingredients:
1 tablespoon olive oil
2 medium-size leeks
2 pounds yellow boiling potatoes like Yukon Gold
4 cups vegetable broth
salt and pepper
Instructions:
Cut off and toss the green parts of the leek, leaving only the white stalk. Slice the stalk in half lengthwise, and rinse between each layer. Thinly slice, widthwise.
 Peel the potatoes and cut into thin slices.
Heat the oil in a heavy 4-quart saucepan.
Add the leeks and cook until soft, about 2-3 minutes. Stir so they don't stick and burn.
Stir in the potatoes and broth and crank up the heat until it boils.
Cover the saucepan and reduce heat to medium-low. Simmer for 25 minutes until the veggies are tender.
Season with salt and pepper to taste
Optional: Using a blender or immersion blender, puree the soup. A nice trick is to remove half of the soup and just puree the half in the pot. Then add the removed portion back in so the soup has a nice texture. It's up to you! I have pictures below that show it two different ways.