Last night, I played poker with my friends. As a poker novice, my goal was not to be the first one out…and I achieved my goal – hooray! I also spent the afternoon baking treats for the game.
Note: These are not healthy…so eat sparingly and enjoy 🙂
Whoopie Pies
Makes 24 pies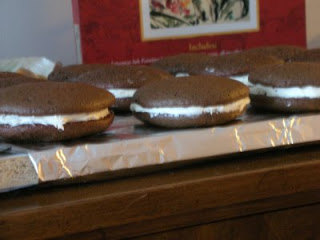 For the Cake:
Preheat oven to 350
Mix in a large bowl:

2 C. flour
1 tsp. baking soda
1/4 tsp. salt
1/3 c. unsweetened cocoa powder
1 c. sugar

Beat together in another bowl

1 large egg
1 tsp. pure vanilla extract
3/4 cup whole milk

Beat egg mixture into dry ingredients.
Add 1/3 c. vegetable oil
Drop mixture by the Tablespoon onto a lightly greased cookie sheet – or use parchment paper
Bake 12 minutes at 350 F.
Cool.
For the Filling
Beat together until creamy:

1 stick butter
1 1/2 c. confectioners' sugar
2 cups marshmallow fluff
1 tsp. vanilla

Spread filling onto the bottom of a pie. Place another pie on top!
If you don't have a cooling rack for the whoopie pies, you can try this. I make my own cooling rack out of the top of my broiler pan and 4 cans. Here's how to do it:
Fit a piece of tinfoil to the broiler pan. Fold it in half. Cut slits in the tinfoil that match the broiler pan's slits. Then unfold the tinfoil so it covers the whole pan.
Put 4 cans under the pan so it looks like a table.
I also made a big batch of cookies…really easy to make, transport, and grab between hands…
Peanut Butter Chocolate Chunk Cookies
Adapted from the Barefoot Contessa
Makes 36-40 Cookies
Ingredients:
2 sticks unsalted butter
1 1/2 cups light brown sugar, packed
3/4 cup granulated sugar
3 large eggs
2 teaspoons pure vanilla extract
1 cup smooth peanut butter
2 1/2 cups all-purpose flour
1 tsp. baking powder
1 tsp. sea salt
1/2 cup salted, roasted peanuts. Roughly chopped.
1 pound semisweet chocolate chunks
Preheat the oven to 350
In the bowl of an electric mixer with the paddle attachment, cream the butter and sugar until light and fluffy. (It will be much lighter in both color and texture when it's done – wait for it)
Add the eggs, one at a time
Mix in the vanilla and peanut butter
Sift together the flour, baking powder, and salt. Add to the batter and mix until just combined
Fold in the chocolate chunks and peanuts
Drop the dough onto a baking sheet lined with parchment paper by rounded tablespoons
Bake for *exactly* 17 minutes – the cookies will look underdone.
Remove from the oven, cool slightly on the pan, and transfer to a cooling rack.
 These cookies will be golden with a crisp bite and gooey chocolate chunks hiding inside. Pair the salty/sweet cookies with beer and a winning hand.