I like quick, easy-to-assemble meals and snacks, so I keep a bunch of healthy staples on hand and  prep fruits and vegetables when I have some time (like weekends). In my guest blog post for Sharon Palmer, "The Plant-Powered Dietitian," I share exactly what those staples are, so head over for a list of my "must haves." One of my favorite throw-together meals is a Mediterranean platter or sandwich.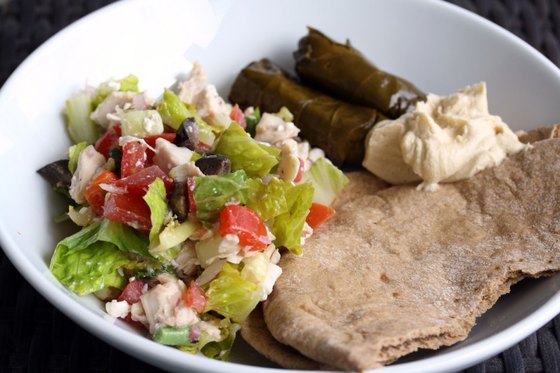 If you have hummus, some kind of whole grain (crackers, pita, quinoa, etc.), and prepped veggies on hand, you've got lunch. If you have leftover salad or you've prepped canning jar salads for the week – add that! You can easily include a hardboiled egg, beans, or roast chicken for more protein. 
It's a simple but filling meal, and you can find a more detailed recipe on Sharon's blog. Sharon is a registered dietitian, food and nutrition writer, and plant-based expert (she literally wrote the book on it). In my guest blog, I answered lots of personal questions like:
what I eat in a typical day,
where I get my plant-based recipes and food prep tips, and
what are my plant-based must-haves when food shopping.
I also share practical tips that make it easy to fit more fruits, vegetables, beans, legumes and whole grains into a busy person's diet, without having to cook up complicated recipes or worry about food going to waste.