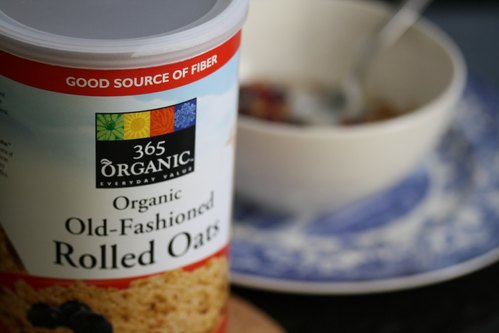 First let's talk about the word "diet," then we'll get to pantry staples.
I don't like the word "diet." When I think about the word alone, I get hungry. 99% of the time, all those popular restrictive diets are unsustainable. Yes, you can lose weight, but if you're going to deprive yourself of food you like, and then gain the weight back (plus some), then what's the point? When I say diet, I mean the food choices you make every day.
What do I focus on, if not diets? Healthy lifestyle choices. Exercising because it makes you feel alive and strong, and reduces anxiety. Eating whole foods because they taste good and give you energy. Crunching on grapes slowly and enjoying the "pop" as your teeth sink in. Savoring the buttery goodness of a homemade chocolate chip cookie as it melts in your mouth. Sitting across the table from someone you love and eating a ground turkey chop suey you threw together.
Acknowledge what you're eating and enjoy it until it doesn't taste as good as the first bite. Eat calories, don't drink too many of them. And try to keep your weekly food intake balanced and healthy overall.
Okay so now that I've talked about my philosophy a little bit (and there's a lot more if you're interested!), let's hit the pantry.
Pantry staples are the non-perishables you keep in your cupboard so you can quickly cook a healthy meal with a few fresh additions. You can even save yourself a trip to the grocery store with some advanced planning. Frozen meat and vegetables in the freezer and a batch of rice or beans you cooked on Sunday + pantry staples = instant meal.
Your Pantry Shopping List:
Oils:
Grains:

whole grain pasta
oatmeal
brown rice
quinoa

Protein:

dry or canned beans
dried lentils
canned tuna and salmon (and sardines if you like them)
peanut butter

Frozen:
 Canned:

canned tomatoes (crushed, chopped)
tomato sauce
spaghetti sauce
low sodium chicken or vegetable broth/stock

Dried

herbs and spices (fresh tastes best but dried will still go a long way)

Other

chocolate chips (…I always have them on hand)
What can you do with all of this? Salmon burgers, tuna salad, veggie-loaded pasta and sauce, rice + veggie casseroles, breakfast quinoa with frozen fruit, fruit smoothies, no-bake peanut butter oatmeal cookies, and bean burritos become a lot easier to whip up.
Once you get to the grocery store, it's label reading time! Two popular staples are often loaded with hidden ingredients you'll want to avoid. Make sure you're not sabotaging your healthy meals with MSG and added sugars.
Broth/Stock:
Avoid those with: MSG, hydrolyzed wheat gluten (if you're gluten intolerant), honey, and evaporated cane juice. Broth does not need added sugar.
Likely safe bets: Swanson; Imagine Organic Free Range Chicken Broth (low sodium); and Health Valley Broth (no salt added)
Make vegetable broth/stock yourself and control the ingredients. Save the peels and stems from fresh veggies in a large freezer bag. When the bag is full, pour the veggies into a large pot and cover with water (the less water, the more concentrated the stock), bring to a boil, and then simmer for about an hour. Strain the broth into a bowl and store. Freeze so it's ready when you need it.
Make chicken broth/stock yourself: Same as vegetable stock but add a whole chicken (giblets removed). Simmer for 4 hours until the chicken is cooked. Drain into a bowl and store the broth. Combine the tender cooked chicken with pantry staples for a quick meal!
Jarred Pasta Sauce:
Avoid those with over 3g of sugar. One high-end brand had 12g of added sugar in a 1/2 cup serving. That's more than one Krispy Kreme glazed original donut. If you have a cup of sauce, that's equivalent to pouring 6 teaspoons of sugar on your pasta.  
Likely safe bets: Classico Traditional Favorites Pasta Sauce Tomato & Basil; Rao's Homemade Pasta Sauce Tomato Basil
Make pasta sauce yourself and control any added sugar:
What are your favorite pantry staples? What are your top speedy homemade dinners?