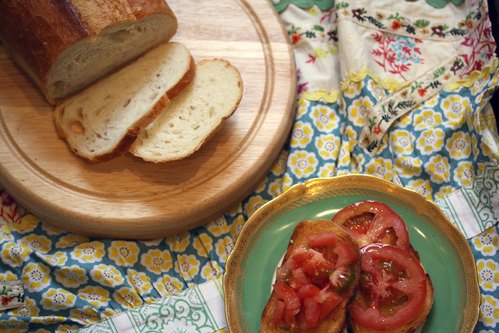 This month's Recipe Redux challenge is to beat the July heat with a no-cook meal. I can't think of a better one than my dinner last night. It's rustic, it's easy, it's no-fuss, and it's got my mouth watering thinking about it.
Pan con tomate is a quick, light meal that highlights the outrageously good flavor of late summer tomatoes. If you're hungry, it's a great warm appetizer. It's basically warm garlic bread with sliced tomatoes and sea salt. Like a bruschetta without all the leg work.
Use an heirloom (the ugly, colorful ones that appear in late summer) or a flavorful red like the ones from Backyard Farms. In Spanish, pan con tomate means "bread with tomato" if that gives you an indication of how easy this is going to be.
You don't need many ingredients, but it's important that they are all awesome.
For one person, gather 1 medium-sized tomato, 4 slices of rustic bread, one piece of peeled garlic, some olive oil, and sea salt. Multiply from there for more hungry tummies.
Simple Steps:
Toast slices of bread.
Spray the toast with a thin layer of olive oil (check out the Misto), or baste a light coat.
Rub a raw, peeled clove of garlic on the warm, oily toast.
Spread slices of tomato on top.
Sprinkle with sea salt.