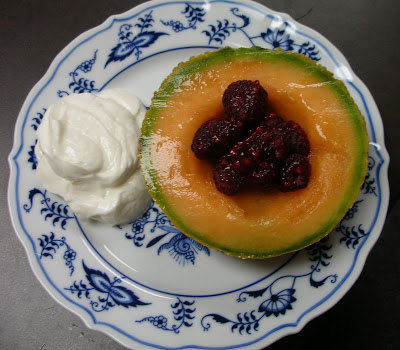 Summer just wouldn't be summer without fruit like the tender, bright orange interior of a cantaloupe melon when it's weighted down with syrupy juice. Or tiny, freshly picked raspberries that practically melt as soon as you bring them near your mouth. My breakfast this morning was a nod to summer and my last week in VT where it's so easy to get your hands on everything that summer intended.
Cantaloupe with freshly-picked raspberries and vanilla yogurt
I took all the parts to work and assembled it in our kitchen there.
At home: cut the melon in half and put that and a handful of raspberries in a container. Grab a lime and your favorite yogurt out of the fridge. Head out the door.
At work: just scoop out the melon seeds and throw them away. Fill the new cavern with rinsed raspberries. Squeeze some lime juice on top. Serve with yogurt.
Ingredients:
Melon – pick your favorite. I used cantaloupe.
1/4 of a lime
Handful of raspberries, rinsed right before eating
Yogurt – I had Chobani vanilla yogurt