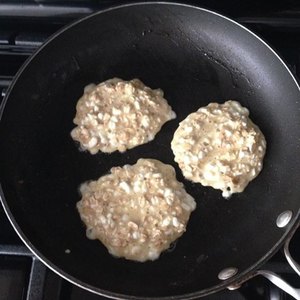 A healthier alternative to plain-old flapjacks, these oatmeal cottage cheese pancakes are light, protein-packed, fiber-rich, and way more satisfying than your typical white-flour stack. Oh, and they're quick and easy.
I ate them before taking a picture…so there's no "after" beauty shot. But honestly these guys aren't lookers. So you didn't miss a whole lot 😉
The batter comes together in minutes, and before you know it, you'll be sitting down to a wholesome breakfast that's crispy on the outside and soft and sweet on the inside. I devoured them with real maple syrup and wasn't hungry again for hours. You could also spread a little nut butter or preserves on top, or load them up with fresh berries and banana slices.
These are easily made gluten-free by using gluten-free oats, and lactose-free by using a lactose-free cottage cheese.
Oatmeal Cottage Cheese Pancakes:
Makes approximately 7 small pancakes or 2 large ones
Calories: 332; 9g fat (3.2g saturated); 4g fiber; 1.6g sugar; 26g protein; 15% DV Iron
Ingredients:
1/2 cup gluten-free rolled oats
1/2 cup reduced fat 2% cottage cheese
1 large egg
1 teaspoon vanilla extract
Dash of salt
Mix all ingredients together in a small bowl. Lightly coat a non-stick pan with extra light olive oil or vegetable oil and heat on medium-high. Add pancake batter to make small or large pancakes as desired. Once batter starts bubbling in a few minutes, flip and cook until golden brown, about 2-3 minutes. Remove from heat and serve.
Note: While I love the texture of rolled oats in these pancakes, you can also blend the ingredients in a small cusinart so it more closely resembles pancake batter. For me, that's just an extra step and another thing to clean! 🙂