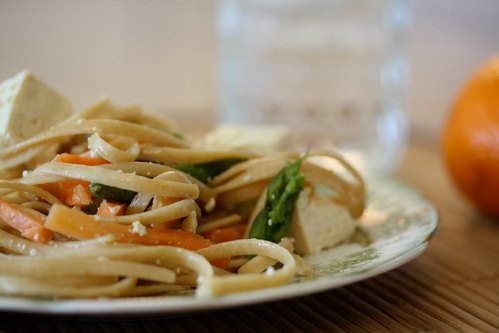 Hello quick recipe, how are you? I'm hungry. Can I make you in under 30 minutes? Oh, I can? Done.
This fresh, cold noodle dish is best served the next day – so have a little for dinner, pack it up, and eat it for lunch at work or school.
Real Simple's recipes are designed to be…stick with me here…really simple. Which means that it's quick and easy and flavorful, but not as flavorful as it would be if it were less quick. For example, the recipe calls for sesame oil, lime juice, and canola oil – there's only so much flavor you can get from that combination. So word of caution – this is good, but it's not especially exciting. The dressing could use some more pizazz. If you've got any suggestions, let me know! I'm going to try EatingWell's simple, but more ingredient-heavy version next time (it just came through my e-mail box today).
No-Fuss Asian Noodle Salad with Tofu, Peanuts, and a Sesame Vinaigrette
(lightly adapted from Real Simple magazine)
Total time: 25 minutes, serves 2-3
Ingredients:
1/3 box of whole grain spaghetti
1-2 handfuls of shredded carrots (feel free to buy the pre-shredded bag)
1 kirby cucumber (or 1/2 a regular cucumber)
1 bunch of asparagus (remove bottom 1/3 and save or discard. Cut remaining portion into small bites)
1/2 a block of firm tofu, cubed
1/4 cup of roasted peanuts
1 tablespoon canola oil
1 lime (for the juice)
2 teaspoons toasted sesame oil
1/2 teaspoon kosher salt
Instructions:
Cook the spaghetti according to the package's directions; drain and rinse under cold water.
Microwave asparagus in a covered, microwave-safe bowl with a little water for 3 minutes.
Toss pasta with the cooked asparagus, shredded carrots, chopped cucumber, peanuts, canola oil, fresh lime juice, sesame oil, and salt.
Chill and serve cold.
Garnish with sesame seeds if desired.