Note: This blog post is sponsored by the California Strawberry Commission. They paid for my trip and are providing the giveaway prize. They provided me with materials, but all thoughts and opinions are my own.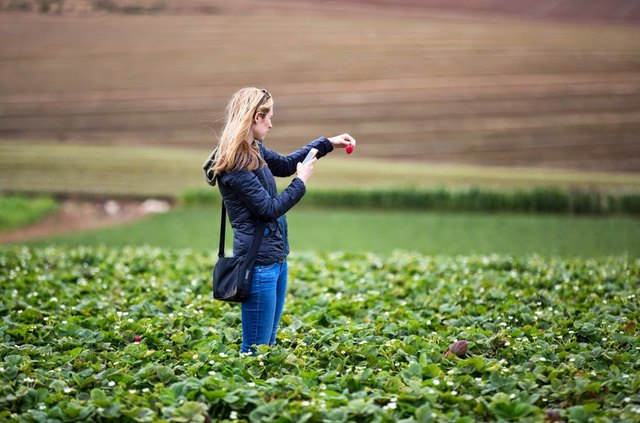 After a magical trip to Santa Cruz, California last week, I'm back to tell you all about my time at the California Strawberries Farm Tour & Culinary Event! First, I want to thank the California Strawberry Commission for inviting me to visit Strawberryland. They put so much thought into every little detail, from setting up a food truck picnic in the field to welcoming us with a cozy jar of strawberry granola. A special shout out to the Strawberry Commission's staff, specifically Jodi Reinman and Jenn Chidester of Modern PR. I ate amazing food and learned a ton about strawberries because of you!
Here's my recap of the event: I arrived in San Jose, California on Thursday afternoon and was met by a super friendly driver (and ex-Naval officer) who drove me about an hour south to Santa Cruz on windy roads, lined with dense, old-growth trees – a big change of pace from SoCal palm trees and desert plants.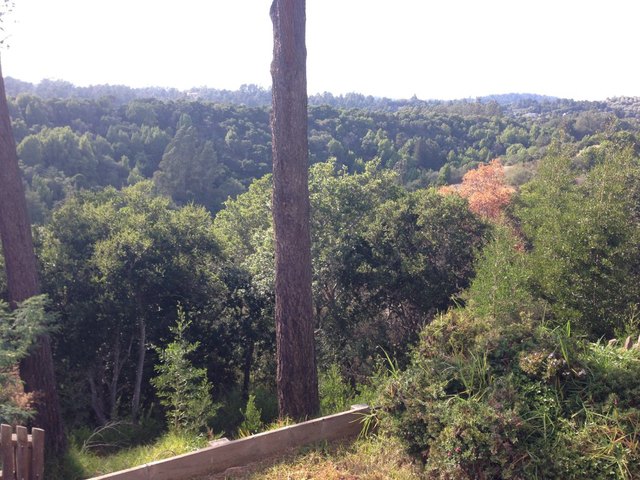 When I got to the Chaminade Resort & Spa, I had some time to myself before the welcome reception, so I sat outside on the patio looking into the forest and wandering around the property. I LOVE the crunchy sound of woodchips under my feet, which always reminds me of New England, and hiking around Massachusetts and Vermont.
I unpacked my new favorite grocery shopping bag, and found lots of wonderful treats, including granola handmade by the wife of the strawberry farmer we'd be visiting. I've included her recipe at the bottom of the post!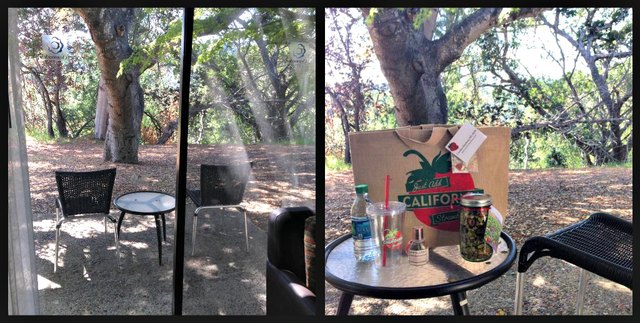 At the reception, I met the nine other food and lifestyle bloggers at the event. Everyone was so friendly and happy to be there, and I loved getting to meet other bloggers! It was totally normal to have your phone out and photograph everything before eating it. My two favorite appetizers were the strawberry grilled cheese and strawberry bruschetta. It's very clear to me now that strawberries and cheese are crazy good together.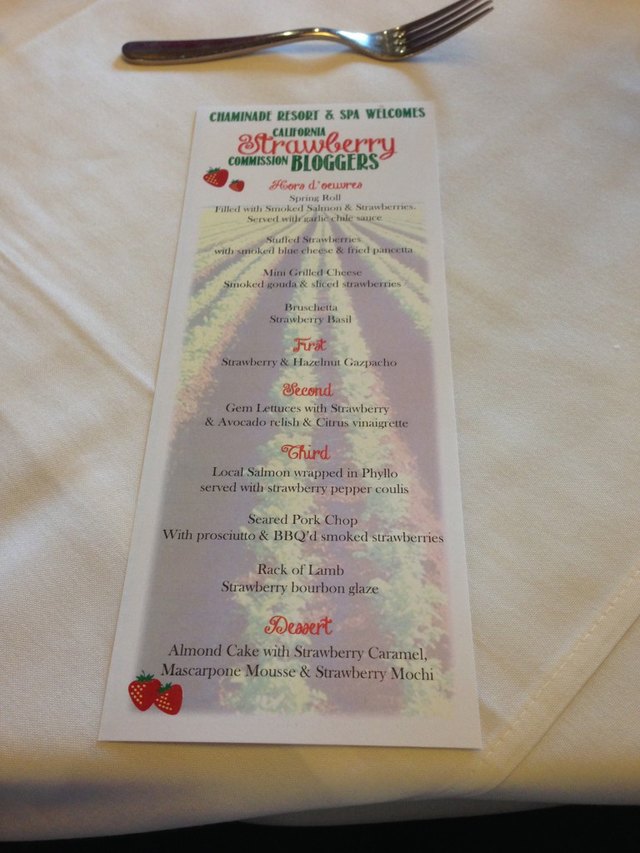 Dinner that night was a whirlwind of strawberry dishes, and my favorite was a simple salad that highlighted fresh produce: gem lettuces with strawberry and avocado and citrus vinaigrette. They sprinkled black lava sea salt on top of the avocado, which was ridiculous. I need to find some of that salt stat.
The next day, they whisked us off to the Santa Cruz wharf, where I saw a fluffy little BABY SEAGULL (!!!), sea otters swimming around, and a ton of hardcore surfers.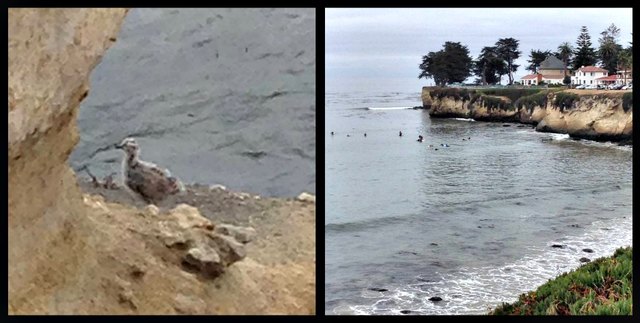 Then, onto the main event –  farmer Rod Koda's strawberry farm in Watsonville, California. Here are some of the fun strawberry facts I learned on the farm tour in between plucking strawberries off the vine and popping them into my mouth:
California is a Strawberry Growing Powerhouse:
Strawberries love to snuggle up in rich, sandy coastal soils with western ocean exposure and moderate temperatures. Basically, they like to hang out on a cool day at the beach under a cozy blanket as much as we do.
90% of U.S.-grown fresh strawberries come from California
Over 1.7 BILLION pounds of strawberries are harvested annually
There are more than 400 strawberry farmers in Cali, many from multi-generational farming families. They're among the most progressive and environmentally conscious in the state and have invested over $13M in research and sustainable farming practice to reduce pesticide use and environmental impacts.
I saw the results of the research firsthand, watching a tractor fitted with a vacuum (bug vac) troll through the fields sucking up lygus bugs. I also learned that farmer Koda uses predatory spider mites to kill the spider mites that ruin his crop as a part of an integrated pest management plan. All of these techniques allow him to use fewer chemicals.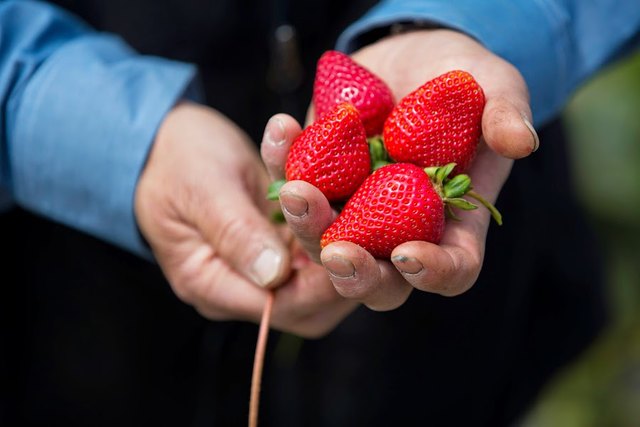 The Berries are Bursting with Good Nutrition:
Superfruit

: A serving of strawberries (8 medium sized) has more vitamin C than an orange.

Dynamite for Diabetics

: A cup of strawberries has half the sugar of an apple. The American Diabetes Association identified berries, including strawberries, as one of the top 10 superfoods for a diabetes meal plan.

Good for your Heart

: Potassium found in strawberries can help control blood pressure and fight strokes. Plus, antioxidants, fiber and phytochemicals in strawberries have been shown to reduce total cholesterol levels.

Healthy However Grown

: Available scientific data indicate that there is not a significant difference in the nutritional quality between organically and conventionally grown foods. I think the real focus should be to eat more fruits and vegetables, and not to get hung up on the nutritional differences between the growing practices.

Non GMO

: There are no genetically modified strawberries commercially grown and shipped.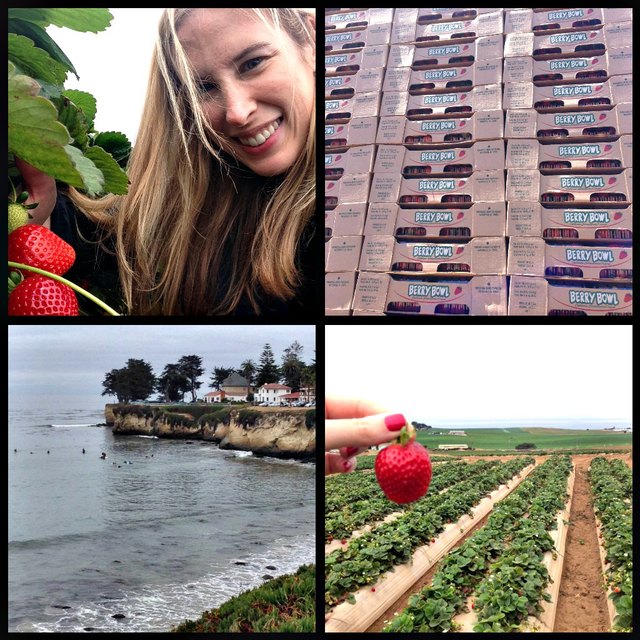 Finally, we had a beautiful lunch across from the fields from an LA food truck, The Lobos Truck, who makes the best darn babyback ribs and mac and cheese I've ever had.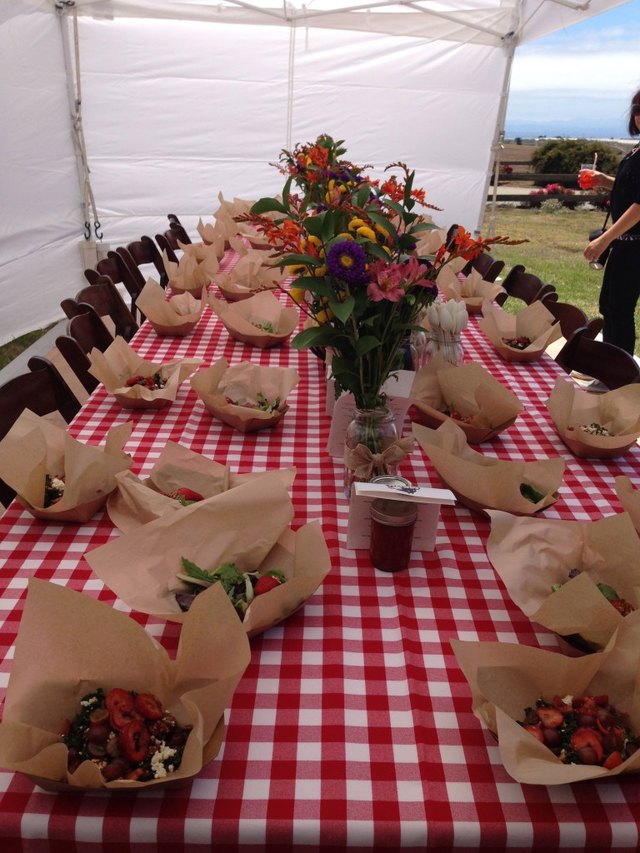 For more information, visit: http://www.californiastrawberries.com/
Recipe for Farmer's Wife Strawberry Granola: Shared with Permission from California Strawberries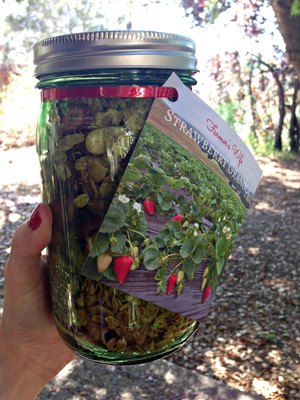 Ingredients:
3 cups old-fashioned oats
1/2 cup sliced almonds
1/2 cup cashew pieces
1/2 cup unsweetened shredded coconut
3/4 teaspoon ground cinnamon
1/2 teaspoon ground ginger
1/4 teaspoon (generous) salt
1/3 cup honey
3 tablespoons (packed) brown sugar
2 tablespoons vegetable oil
1 cup assorted dehydrated strawberries and mango
Directions: Preheat oven to 300°F. Line rimmed baking sheet with parchment. Mix first 7 ingredients in large bowl. Stir honey. oil and brown sugar in saucepan over low heat until smooth and not grainy. Pour honey mixture over oat mixture; toss. Spread on prepared sheet. Bake until golden, stirring every 10 minutes, about 40 minutes. Place sheet on rack. Stir granola; cool. Mix in fruit.
DO AHEAD: Can be made 1 week ahead. Store airtight.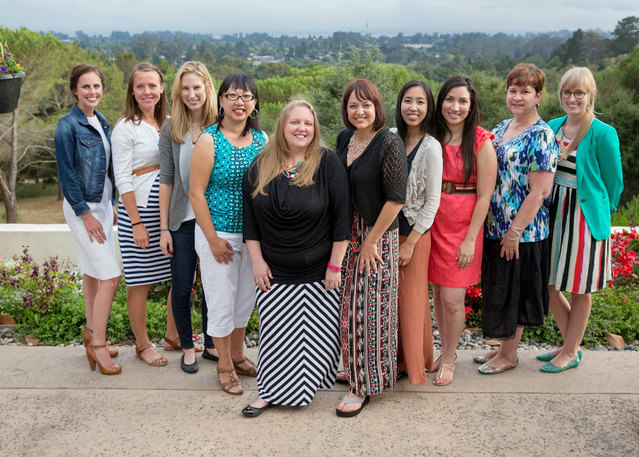 If you'd like to know more about the other bloggers on the trip, here are their awesome websites:
THE GIVEAWAY!
The California Strawberry Commission is sending one lucky reader a strawberry tea kettle. Enter below to win!