I use Pinterest as a virtual recipe book. Instead of tearing out sheets of paper from magazines and taping them into an oversized notebook organized by course (yup, that type A), I just click a button and magically zap them into place online. When I'm deciding what to make, it's the first place I go.
I want to share 10 of my favorite recipes with you – the ones that both my husband and I happily declared "make agains" as we enjoyed our first few bites.
1. Easy Chicken-Mushroom Quesadillas by Ellie Krieger for The Food Network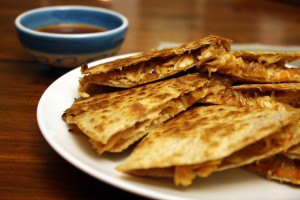 (This photo is actually of Iowa Girl Eats' BBQ Chicken Quesadilla because I apparently devoured Ellie's before I could snap a photo – whoops!)
We LOVE the flavor of Ellie's quesadillas, and how quickly they come together. If you have leftover cooked chicken breast (or prep it on sunday for the week), this is a great meal for you.
2. Sneaky Meatball Subs and Sneaky Meatballs on Spaghetti Squash by Kristin Porter at Iowa Girl Eats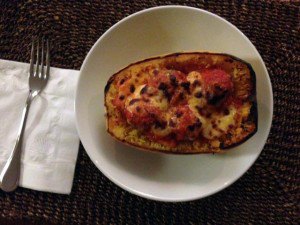 Kristin Porter, the girl behind Iowa Girl Eats, is a recipe genius – you'll see a bunch of our favorite Pinterest meals come from her blog. Her lean turkey meatballs are super flavorful and anything-but-dry because of the shredded zucchini she sneaks inside. It's a hearty dinner whether served in a sub roll or on top of spaghetti squash.
3. Lighter Sesame Chicken by by Kristin Porter at Iowa Girl Eats
I love this healthier version of a high-cal Chinese food favorite. I've also breaded the chicken with almond flour, which gave it a great flavor although less crispy texture.
4. Mediterranean Smothered Chicken by Kristin Porter at Iowa Girl Eats
This is one of my husband's all-time favorite meals. The little bit of cream gives it a decadent flavor, but there's really hardly any in there! The combo of briny capers and artichokes with savory tomatoes and fresh basil is beyond.
5. Twenty-Minute Chili by Cooking Light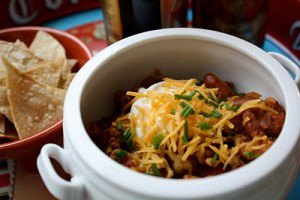 This has been a family favorite for years. When I visit with my parents, they often request it! It's an easy, quick dinner staple.
6. Lively Yourself Up Lentil Soup by Heidi Swanson at 101 Cookbooks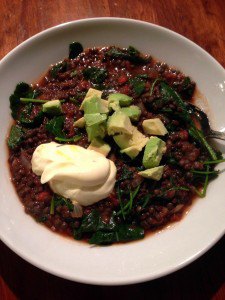 One of my FAVORITE meals.  Heidi adds a dollop of saffron-infused Greek yogurt to the top of each bowl – come ON! It's also fantastic with poached eggs on top or chunks of ripe avocado.
7. Chicken and Brown Rice by Martha Stewart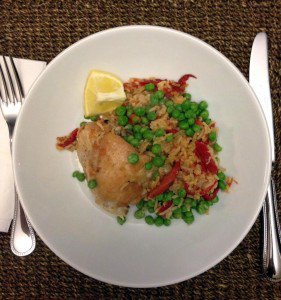 A one-pot wonder. Shortcuts include frozen peas and jarred roasted red peppers. This meal is just plain cozy. We've also enjoyed it with basmati rice, which stays soft after refrigerating…leftover heaven!
8. Chickpea Burgers and Tahini Sauce by Eating Well
While I eat them warm at dinner, I turn the leftovers into Mediterranean sandwiches or salads, like you see above. For a sandwich, I layer spinach, chopped tomatoes, and sliced chickpea burgers on one side. On the other side, I smash up some stuffed grape leaves and drizzle tart tzatziki (cucumber yogurt) on the top.
9. Engagement Chicken by Glamour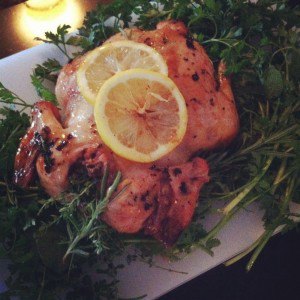 A beautiful basic chicken recipe that can easily become a household staple. It relies heavily on lemon juice and herbs for flavor, and you pour the special lemon "marry me juice" on top at the end. Rumor has it, people get engaged after making it for their boyfriends/girlfriends. This photo is from the night I got engaged 🙂
10. Spinach, Herb & Goat Cheese Frittata by Ellie Krieger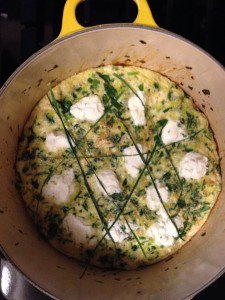 Another hit from Ellie Krieger. Easy to assemble and quick cooking. It's a light dish and pairs really well with roasted potatoes, like her parsley potatoes from her Weeknight Wonders cookbook (where I originally found this frittata recipe).
Question: What are your favorite recipes? Please share recipe links in the comments below! (Don't be shy – it can be your own!)
Follow me on Pinterest for MANY more recipes – I have boards for dinners, snacks, breakfasts, healthy appetizers, salads, seafood, cooking with herbs, cooking with berries, kid-friendly meals, plus home decor, soothing spaces, style…and cute puppies!