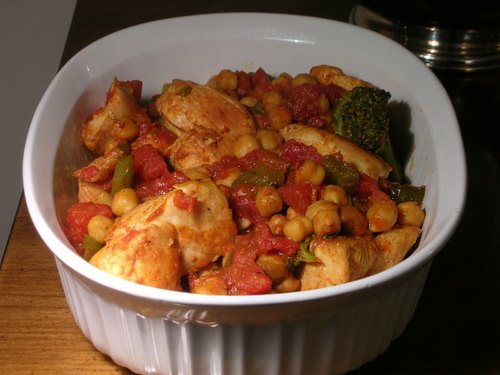 This is a one-pot meal (my favorite weekday dish) and requires very few ingredients to get a flavorful, nutrient-rich dinner on the table in 30 minutes.
Moroccan Chicken Stew
Adapted from Women's Health / 4 servings / Prep time: 5-10 min / Cook time: 25 min
Ingredients:
3 boneless skinless chicken breasts
1 green pepper (chop 3/4 of the pepper…and save the rest for a snack)
1 head of broccoli (chopped)
1 can chickpeas/garbanzo beans (16oz)
1 can diced tomatoes (14.5oz)
1/2 Tbsp olive oil
1 c. chicken stock or water
1/2 tsp cayenne pepper
1 tsp ground cumin
1/2 tsp ground cinamon
salt and pepper
On the side: Cook 1 box of couscous per package instructions and mix with 1/2 cup of golden raisins and 2Tbsp toasted pine nuts. To make it easier, I cooked a box of Near East Couscous mix with Toasted Pine Nuts and then just added raisins.
Instructions:
Cut the chicken into chunks the size of dark meat thighs (see picture). I wear disposable gloves when I handle raw chicken or meat b/c then I can just throw them in the garbage, wash my hands quickly and not feel like I'm all germy.
Season chicken with salt and pepper
Heat oil in a large saute pan or wide pot over medium-high heat
When oil is hot (starts to shimmer), add chicken and cook until browned on both sides. Add broccoli and peppers and continue cooking, stirring often.
When veggies have browned slightly, add chickpeas, tomatoes, chicken stock, cayenne, cumin, and cinnamon. Mix together. Turn heat to low and simmer, uncovered, until chicken is tender and cooked through.
Serve over couscous