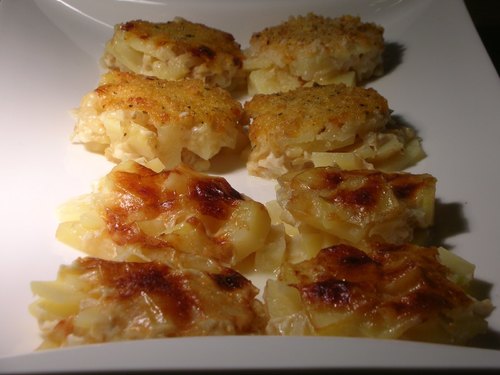 These are are the top two things I like about making single-size servings of food:
They look like you put way more work into them than you actually did
You can control your portion size
With that in mind, I made miniature potato gratins tonight! I created 2 different recipes. One of them involves Italian-flavored Panko bread crumbs which help the gratin hold its shape and give it a heartier flavor. The other is a traditional gratin.
As usual with a nod toward health, I made these with non-fat milk. You won't find butter or heavy dairy in these but trust me, you would never know it. The brown bubbly binding cheese is from freshly grated Parmigiano-Reggiano – but you can really use any cheese you like.
Miniature Potato Gratin
(makes 12 individual gratins)
I recommend using a muffin tin and spraying it down with oil. I fill up my misto with generic olive oil and use it to spray everything. Yukon gold potatoes work the best because they hold their shape. This recipe will make 6 regular gratin and 6 with seasoning.
Total prep time: 15 minutes
Total cook time: 1 hour
Ingredients:
3 Yukon gold potatoes
1 Cup grated Parmigiano-Reggiano cheese
1 Shallot
1 Tablespoon all-purpose flour
1 Cup non-fat milk (approximately)
6 Tablespoons Italian-style panko breadcrumbs
sea salt to taste (at the end)
Instructions:
Preheat your oven to 350F. Line the rack below the middle rack with tinfoil.
Scrub the potatoes clean, and thinly slice them width-wise. Then roughly chop the slices so they'll fit in the muffin cups.
Peel and thinly slice the shallot. Then roughly chop into small pieces.
Pile potatoes into each muffin tin until they fill 1/2 way up. Then sprinkle in a pinch of shallots. Sprinkle a pinch of cheese.
Add potatoes to just below the top of the tin. Add a pinch of parmesean cheese to the top.
Stir flour into the milk. Fill each tin to the top with milk. Leave a little room so it doesn't spill on it's way to and from the oven!
Top 6 of the muffin tins with 1 Tablespoon each of panko and spread lightly to coat.
Bake for 1 hour. Remove from heat and let sit ten minutes until they have cooled and thickened. Dust with sea salt and serve.