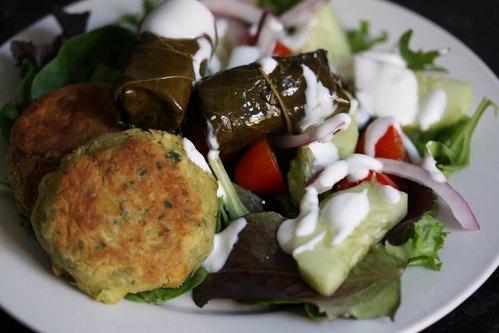 Just because we're not summering in some exotic location doesn't mean we can't eat like we are. Get your fill of Mediterranean flavor with this healthy vegetarian meal. A mix of tastes, textures, and temperatures, this dish has got it going ON. Warm, crispy, pan-fried chickpea patties flavored with fresh basil, cumin, and garlic only take 2-3 minutes of stove time. In this heat, who wants to spend the whole night sweating over a burner? Not this girl.
Mediterranean Chickpea Patties & Greek Salad
Adapted from Health Magazine / Prep: 16 minutes; Cook: 4 minutes; Serves: 4
Ingredients for Chickpea Patties: 
1 15-oz can chickpeas, drained and rinsed
1/2 cup fresh flat-leaf parsley
1 clove garlic, chopped
1/4 teaspoon ground cumin
1/4 teaspoon kosher salt, divided
1/4 teaspoon black pepper, divided
1 egg, whisked
4 tablespoons all-purpose flour, divided
2 tablespoons olive oil
Ingredients for Salad:
8 cups mixed salad greens
1 cup grape tomatoes
1/2 small red onion, thinly sliced
1 cucumber, sliced
Ingredients for Salad Dressing:
1/2 cup low-fat Greek yogurt
3 tablespoons fresh lemon juice (1 lemon)
1/4 teaspoon kosher salt
1/4 teaspoon black pepper
Pulse chickpeas, parsley, garlic, cumin, salt, & pepper in a food processor until roughly chopped and mixture forms a paste
Transfer mixture to a large bowl. Add whisked egg and 2 TBS flour. Form into 8 (1/2-inch-thick) patties. Put 2 TBS flour on a plate, and some on your hands, and roll the patties to coat. Tap off excess flour.
Heat 2 TBS oil in a large nonstick skillet over medium-high heat. Cook patties for 2-3 minutes on each side until golden brown. Dry on paper towels to soak up extra oil.
For salad: mix together salad greens, cherry tomatoes, thinly sliced red onions, and sliced cucumbers.  Place two store-bought stuffed grape leaves on top (dolmas).
For dressing (makes 8-servings): Mix together 1/2 cup low-fat plain Greek yogurt, 3 tablespoons fresh lemon juice (about 1 lemon), and 1/4 tsp each salt and pepper. Drizzle over salad.
Serving suggestions: Have a salad for dinner and jazz it up the next day with a hunk of crusty baguette smeared with tangy Greek tzatziki. Mash the stuffed grape leaves onto the bread and layer with salad and chickpea patties.***
Note: Tzatziki is a Greek spread made with thick, tart, Greek yogurt, cucumbers, dill, and garlic. Look for it near the hummus spreads at your local market. Yum!