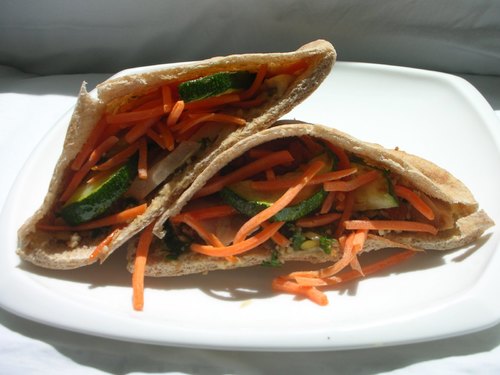 Lunch time! Raiding the fridge…carrots? hummus? chicken? Looks like the making of a Mediterranean pita. Packed with protein and loaded with vegetables, this lunch will satisfy your hunger pains and help you resist snacking on a heavy dessert.
You can leave out the meat for a veggie sandwich, or substitute turkey or tempeh!
Mediterranean Chicken Pita:
Ingredients:
1 whole wheat pita, cut in half
Shredded carrots
Hummus
Cedar's Lentil Mediterranean Salad (good on sandwiches, salads, or with a spoon)
Any veggies you have lying around (I used leftover sautéed zucchini, tomatoes, and carrots from last night)
Roast chicken (but you can use turkey, tempeh, or leave it out altogether)
Directions:
Open up the pitas and slather each side with 1 tablespoon of hummus.
Then add 1 tablespoon of lentil salad to each side.
Slice up some roast chicken and put 1-2 pieces in each pita as they fit.
Add some more veggies and top with shredded carrots.