As Seen In: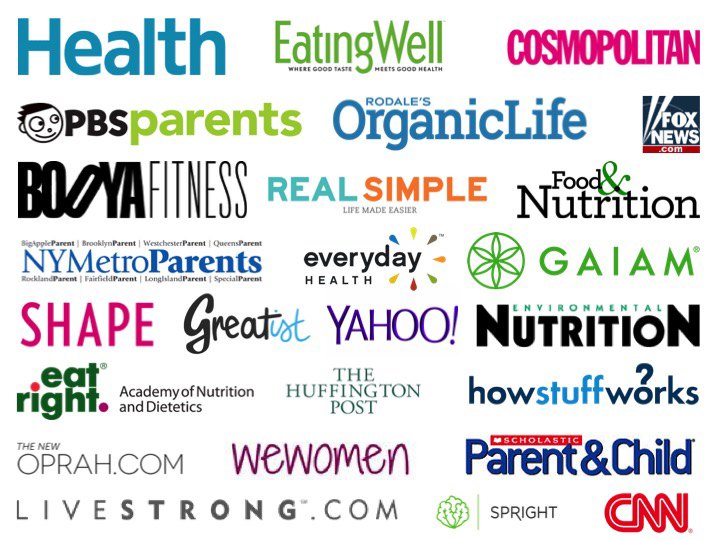 Available for:
Freelance writing
Media Interviews
Ghost writing
Brand ambassador partnerships
Recipe development
Social media consulting
Spokesperson work
Please contact me at: CarolineKaufmanRD@gmail.com
Interviews:
4 Ways Your Power Bowl is Making You Gain Weight – Prevention
7 Tricks to Finally Nail the Whole Portion Control Thing – Self Magazine
It's the Holidays – Eat, Indulge, and Stop Feeling Bad About It – Self Magazine
9 Creative Gifts for the Health Junkies on Your List – U.S. News & World Report
8 Foods That Will Legitimately Keep You Full For Hours, According to Nutritionists – Women's Health Magazine
Eat This, Not That! At Indian Restaurants – Eat This, Not That!
6 High-Protein Breakfasts that R.D.'s Love – Self Magazine
The 8 Best Things to Buy a Trader Joe's, According to Nutritionists – Women's Health Magazine
Why You Need to Stop Being Afraid to Eat Fat – Self Magazine
The 9 Healthiest Things You Can Order at Starbucks, According to Nutritionists – Women's Health Magazine
9 Best Kitchen Gadgets for Weight Loss and Healthy Eating – Self Magazine
8 Myths About Healthy Eating You Need to Stop Believing – Self Magazine
10 Desserts Your Nutritionist Actually Approves Of – Livestrong
9 of the Best Spring Weight-Loss Tips – U.S. News & World Report
The 10 Best Skinny Comfort Food Recipes for Warmer Weather – Fitness Magazine
Q&A With Caroline Kaufman, MS, RDN – Pasta Fits
1 Egg 8 Ways – U.S. News & World Report
What Everyone Gets Wrong About Cholesterol – Self Magazine
8 Reasons You Can't Stop Eating – Self Magazine
Healthy Eating Hacks for People Who Don't Have Time – Active Times
The Truth About Saturated Fats and Your Body – Self Magazine
7 Tricks Guaranteed to Make You a Morning Person – Prevention
Maintaining Weight Loss Over the Holidays – Today's Dietitian
What Real Nutritionists Eat During Holiday Party Season – Rodale's Organic Life
Guilty of Speed Dieting? 4 Smarter Tips for Weight Loss – Daily Burn, syndicated on CNN
5 Fully Reasonable Breakfast Hacks – New York Magazine/The Cut
11 Health Gadgets Experts Wish You'd Use – Daily Burn
Should I Drink Watermelon Juice After Working Out? – New York Magazine/The Cut
10 Tricks to See Weight-Loss Results Fast – Everyday Health 
The Basics of Clean Eating – Gaiam
10 Good-for-You Gluten Recipes Under 400 Calories – Shape Magazine (two recipes featured)
11 Skinny Secrets from Leading Nutritionists – Livestrong
The Healthiest Store-Bought Snacks – Booya Fitness
The Holistic Flight Survival Guide – Rodale's Organic Life
9 Better-for-You Potato Chip Swaps – LIVESTRONG
How Quinoa Works – HowStuffWorks.com
7 Surprising Foods to Combat Winter Colds – LIVESTRONG
6 Slim-Down Secrets from Leading Nutritionists – Yahoo! Health
Whole Wheat Blueberry Zucchini Muffins (recipe) – Shape Magazine
13 Healthy Frozen Dinners – Health
The Best Choices for Yogurt – Livestrong
You Don't Have to Gain Weight This Month – Cosmopolitan, November 2014
10 Heart-Healthy Foods That Aren't – Livestrong
Just How Picky Is Your Picky Eater? Scholastic Parents
22 Ways to Get Happy Now – Health 
Your Guide to Healthy Chocolate – Health
Is Microwaving Food Safe? 7 Nutrition Myths Debunked – FoxNews.com
How to Buy the Healthiest Yogurt – ABCNews.com and Health
7 Foods for Healthy Eyes – WebMD
Did and Done: Made a Family Recipe (And Gave It a Healthy Twist) – upwave
How to Read a Food Label – Health
6 Bad Excuses for Over-Eating – Health
The Health Must-Eat List – Health
Published Articles:
Nutrition Expert Panels:
Book Contributions:
Film:
"Healthy Shopping on a Budget," funded with a grant from the Community Obesity Task Force of Virginia
Radio:
Awards:
Recognized Young Dietitian of the Year, California Dietetic Association & The Academy of Nutrition and Dietetics, 2015
Dietitian of the Week, March 16-20, 2015, Today's Dietitian
Top 50 Nutrition Blogs for 2015, UnStressYourself.com
Nutrition Expert Blog of the Year, 2012 Around the Plate
Top Blog of the Year, 2012 Around the Plate
Runner Up, "It's New to You" Recipe ReDux Contest with Cabot Creamery for Whole Grain Spring Quiche, 2012
Registered Dietitian Nutritionists (RDNs) are the nation's most qualified and well-recognized food and nutrition experts. With Caroline's background in both writing and nutrition communication, she easily translates complicated, confusing nutrition science into simple, memorable, and actionable messages.
For media requests, please contact me at CarolineKaufmanRD@gmail.com
The American Society for Nutrition's Advances and Controversies in Clinical Nutrition Conference, 2015: Using the smiley face hand model to understand portion size:
LA Talk Live! Radio's Here's to Your Health with Josh Lane: Childhood nutrition (starts at ~1hr 15 min):