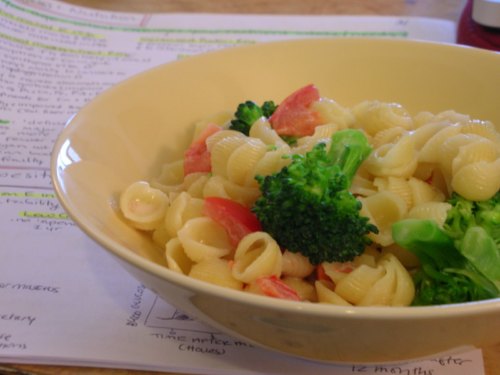 I've been planted at my desk studying for finals and finishing up projects for school. Yesterday, I had an exam at 2pm, but wanted to make sure I had a good lunch because that's one less thing to worry about during the final! I had a bad experience with stomach grumblings at the SAT (so loud, I think the people in the next room could hear), and I will NOT let that happen again. So that's what led me to this little meal…all natural Mac and Cheese plus veggies.
I've had this same mac and cheese without veggies before, and I practically ate the whole box. This time, I added broccoli and tomatoes and I was full after half that amount. It was definitely the water- and fiber-filled vegetables that helped fill me up so fast without eating as much.
Did I mention this is fast" and *easy?
I used Annie's Mac and Cheese because it only has a few basic ingredients, and no added sugar. Plus, it's delicious.
Ingredients:
1 box Annie's Mac and Cheese
1 head of broccoli
1/3 cup tomatoes, chopped
Recipe:
Cook 1 box of Annie's Mac and Cheese (or equivalent) following the recipe on the box.
Cut one head of broccoli into bite-size trees
Chop about 1/3 cup of tomatoes into bite-size pieces
Put the broccoli in a microwave-safe bowl and cover with microwave-safe plastic wrap.
Microwave for 2 minutes.
After you've added cheese to the mac and cheese, stir in broccoli and tomatoes
(makes 2 servings. Takes about 20 minutes)