Hi friends! It's lunch date time! A day set aside for a review of last week's health news & recipes, plus a little bit about me.
In this post, you'll learn…
Whether it's bad to go to bed hungry
About changes to the cholesterol recommendations
How many calories people typically eat at Chipotle
If meditation can help insomnia
How to make healthier comfort food recipes
10 ways to use shredded chicken to make a quick weeknight meal
And much more!
But First…What I've Been Up To: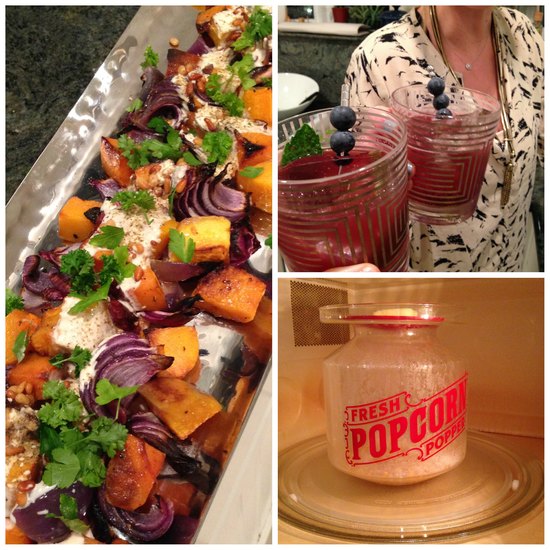 My friend hosted a beautiful dinner party on Oscar night, and presented creative dishes like truffle salt + fresh rosemary popcorn, zucchini noodles with pistachio arugula pesto, roast chicken, and roasted butternut squash and red onion with tahini and za'atar. Isn't her popcorn maker ADORABLE? I love.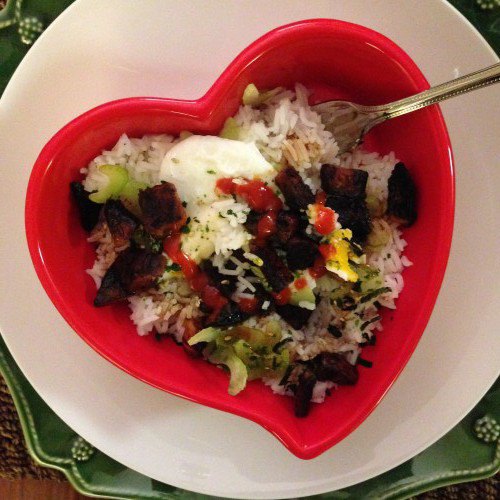 The Jasmine rice in my pantry was calling for me, so I decided to use whatever I had in my refrigerator to make a grain bowl for dinner. I typically make whole grain rice, but there's nothing like Jasmine when you're craving some comfort food. This turned out to be…outstanding. Seriously. I cannot wait to make it again! Here's the recipe: Stir thin slices of celery into warm Jasmine rice, and top with 1-2 poached eggs, and roasted butternut squash**. Sprinkle on nori fumi (seaweed) furikake rice seasoning* and drizzle with a little soy sauce and a swirl of sriracha.
*I got the rice seasoning at Gelson's, and it looks like it's also available at Walmart, most Asian supermarkets, World Market and Wegmans.
**Basic roasted butternut squash will be great, but I actually threw in the leftovers of the pomegranate molasses butternut squash I made earlier in the week – wowsah.
What I'm Reading:
Food, Nutrition & Health:
Living / Home: 
Motivation:
Sleep:
Parenting:
Business & Blogging:
What I'm Salivating Over: 
Breakfasts:
Breads & Muffins:
Snacks:
Main Courses:
Apps/Sides:
Dessert:
I Asked, You Answered!
On Instagram and Facebook this week, I asked you guys to fill in the blank:
The first thing I drink in the morning is…
"Water, technically. Then coffee." – @SweetheartsSts
"Water, always. There was one morning recently in a new mummy haze, I had tea before water, oops." – @KateBearse
"Usually a glass of water and later a Starbucks coffee on the weekends." – @Badd_Adam
"Blended iced coffee with SF caramel syrup. Fail proof way to get me out of bed." – @KaileyP_RD2BE
"Water" – Sandy Headtke on Facebook (winner of the heart bowl giveaway!)
"Coffee – honey sweetened" – Oscar Rodriguez Gonzalez on Facebook
"2 cups of Nespresso" – Jim Meisel on Facebook
Lots of water drinkers out there! I have an Americano with low-fat milk first. I love everything about it. The sound of the coffee maker, the smell of the espresso and the warm mug in my hand. When I'm feeling fancy, I add cinnamon.
What do you drink first thing in the morning?
Keep In Touch!