Hi friends! It's Wednesday again, which means it's lunch date time! A day set aside for a catch-up of last week's health news & recipes, plus a little bit about me.
In this post, you'll learn…
Reasons not to hate processed food
What kids really mean when they say, "I don't like it"
A recipe for cupcakes for two – perfect for a portion-controlled Valentine's Day dessert
And more!
But First…What I've Been Up To: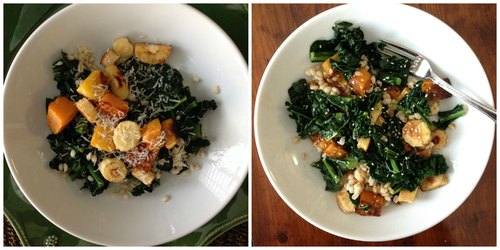 Two different meals, one recipe. Leftovers are a huge time and money saver, plus you're more likely to eat healthier because you're definitely not going to get hungry and frantic and eat a box of mac and cheese because it's all you have on hand (not that I've ever done that…).
I roasted parsnips and cubed butternut squash (pre-cut from Trader Joe's) with a little oil, and sautéed kale in chicken broth on the stove. While the vegetables roasted, I cooked 10-minute quick barley. For my first meal, I combined everything with shredded Parmesan cheese. The next day, I had the same veggies and barley for lunch, but I dressed it with soy sauce and sesame seeds. Yum!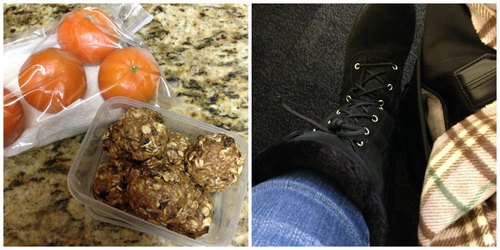 I'm traveling on the snowy East Coast right now, and the night before I left, I threw together some of my favorite travel snacks: Maple Oatmeal Raisin Cookie Bites, clementines and a peanut butter sandwich for the flight.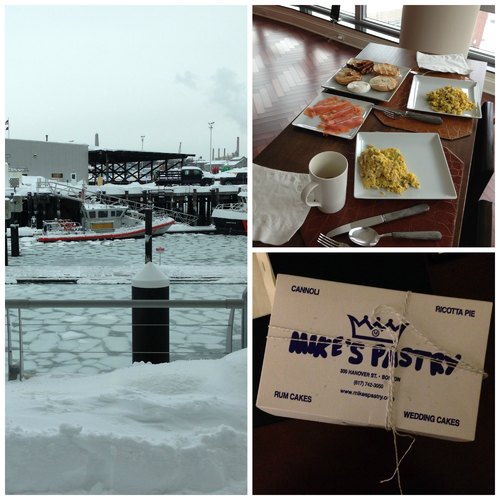 Scenes from blizzard-y Boston: On the left, a view of Boston Harbor from my hotel. On the top right, an extravagant brunch thrown together by my Uncle John. Scrambled eggs with chopped turkey, peppers and onions, bagels and cream cheese, smoked salmon and coffee. Mike's Pastry is an iconic bakery in Boston's North End that always has a huge winding line stretching from the inside of the shop down the block. But, apparently when you walk there in a snow storm that shut down the public transportation system, you can get in with no line. I honestly never knew it was that big inside. I even took time to browse. Unheard of. Left with some cookies (including a particularly awesome florentine).
What I'm Reading:
Food, Nutrition & Health:
Exercise & Movement:
Parenting:
Valentine's Day:
Mindfulness:
Blogging:
What I'm Salivating Over: 
Breads & Muffins:
Snacks:
Main Courses:
 Valentine's Day Sweets:
Dessert:
See you for another Wednesday lunch date next week!
I'd love to hear from YOU! What was one thing that made you happy last week?