Happy New Year's Eve Day! I'm back with your mid-week news roundup. Have fun and be safe tonight. And make sure to keep a special eye on your pets – it's an unusually busy night at the Veterinary Emergency Rooms (here's why). Cheers to a healthy, happy 2015!! xx
Here's my collection of articles and recipes from the last week, from the best way to make resolutions stick to a lemon peel twist hack.
What I'm Reading:
Food, Nutrition & Health:
Sleep:
Exercise:
Kitchen Techniques: 
What I'm Salivating Over: 
Breakfast:
Party Appetizers:
Slow Cooker Recipes:
Main Courses:
Desserts:
What I've Been Up To:
I had to do a big grocery shop to replenish our staples and pick up ingredients for dinner, so I took some photos to show you how I filled up my fridge!
Some of the highlights:
(1) Wheetabix cereal. I've been eating 2 biscuits with lactose-free 1% milk and California strawberries for breakfast the past few mornings. It keeps me full and tastes great. The biscuits have 4 grams of fiber, 4 grams of protein, 2 grams of sugar, and 130 calories.
(2) Organic Valley 1% Lactose Free Milk. This is the best tasting lactose free milk – it's rich and creamy and not thin and sugary tasting like others I've had. The 1% milk fat helps me stay full.
(3) Eggs: We always have eggs in the fridge. It's our typical weekend breakfast and can be a quick lunch or dinner too.
(4) Brown Rice Cakes: I love these with freshly ground honey roasted peanut butter or hummus for a snack (you'll see both of those in the cart too!)
(5) Clementines: The best snack when they're in season!! Totally satisfies a post-dinner sweet tooth and makes an awesome afternoon snack.
(6) Celery: good for snacking with cheese, peanut butter or hummus – or all on their own!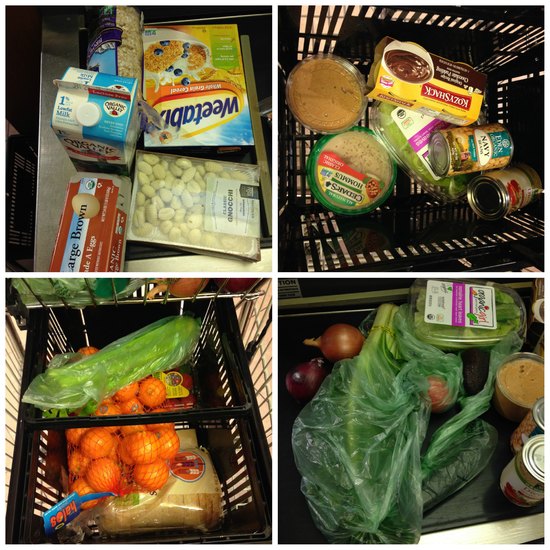 Some holiday treats I made around Christmas! Clockwise from top left: Cinnamon sugar chocolate chip pull-apart bread from What's Gaby Cooking; setting up for chocolate fondue with my family; posing with the warm pull-apart bread; the elf on a shelf stealing the last rugelach!

See you for another mid-week lunch date next Wednesday in 2015!