Hi friends! It's time for another mid-week news roundup. Thank you for finding some time in your busy day to catch up.
Here's my collection of articles and recipes from the last week, from The 14 Foods You've Been Storing All Wrong to Gingerbread Biscotti.
I hope you find it helpful!
My Latest Press:
What I'm Reading:
Food, Nutrition & Health:
Kitchen Techniques:
Mindfulness & Intuitive Eating:
Exercise:
I Tweet the latest news as I find it. To stay current, follow me on Twitter!

What I'm Salivating Over:
Breakfast:
Breads & Muffins:
Appetizers:
Sides:
Salads:
Snacks:
Soups:
Main Courses:
Slow Cooker:
Desserts:
What You Should Consider Giving Food-Loving Friends for the Holidays:
All of these recipes & many MANY more on my Pinterest page. Follow me on Pinterest!

Photos From the Week:
On Sunday, I went to brunch with a group of L.A. food bloggers at Scopa Italian Roots in Venice, CA. My coffee came in a New York food cart-style paper cup and between sips of mimosas and forkfuls of beefsteak tomatoes, raw brussels sprouts salad and apple crostata, I got to meet some amazing bloggers. I sat across from Meg of Beard + Bonnet, a west-coast-style steel magnolia who runs a gluten-free blog. Catherine McCord of Weelicious joined our end of the table, and if you have kids and haven't visited her blog, you've got to check it out. She's just as fabulous in person as you'd imagine after reading her posts. Special shout-out to my friend Lily at Kale & Caramel who is a superstar blogger (recognized by Martha Stewart herself) and takes insanely beautiful photos of her culinary creations.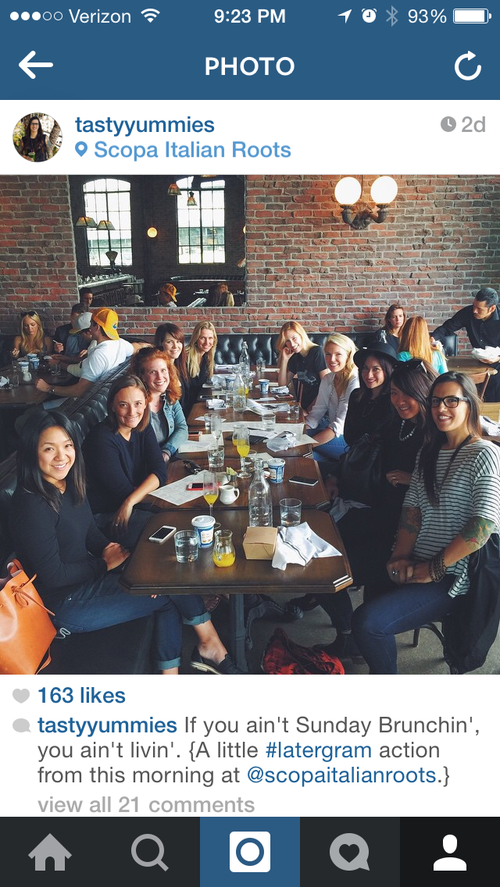 Last night, I went to an L.A. food event at the Four Seasons restaurant, Culina hosted by Food & Friends L.A. (a group of food-loving folks who work in food media in L.A.). Everyone I met loved food and worked in media, but did something totally different – it's always fun to meet people who come at the same field from different angles.

I hope to see you for another mid-week lunch date next Wednesday!
"Be nice to yourself. It's hard to be happy when someone is mean to you all the time." ~Christine Arylo