Hello again! Thanks for finding the time in your busy day to catch up with me. I'm thrilled you could make it to our lunch date this week!
First off, I have exciting news to share with you. I was invited to be a healthy living blogger for the Huffington Post! My first article was published last week, and it's called "How Doing Dishes Can Help You Lose Weight." Check it out!
Here's my collection of articles and recipes from the last week, from hot hot hot ancient grains to a whole lotta grain bowl and casserole recipes. For some reason (Jonas Salk's 100th birthday? The new moon? Halloween coming up?) this was a big week for great news articles and awesome recipes – I stumbled on a ton to share with you all.
But wait…
I Still Need Your Help!
I was nominated for two WEGO Health Activist Awards (Best Blog & Best Twitter), and I need your help to win!
If you can, please take a moment to endorse my nomination:
click here to vote for me!
Thank you so much. I wouldn't be up for these awards without each of you!! xo
My Recent Press: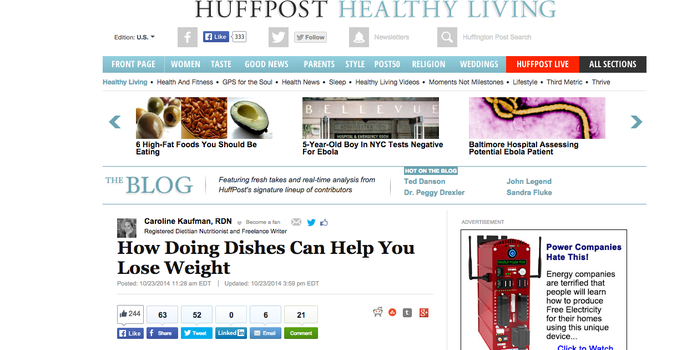 What I'm Reading:
Food News & Trends:
Food Safety:
Food, Nutrition & Health:
Cool News That Has Nothing to Do With Food:
What I'm Salivating Over:
Breakfasts:
Salads:
Soups:
Main Courses:
Casseroles:
Grain Bowls:
Slow Cooker Meals:
Appetizers and Sides:
Snacks:
Desserts:
Halloween Treats and Dinner Recipes:
All of these recipes & many MANY more on my Pinterest page. Follow me!
Photos From the Week:
Be well! See you for another mid-week lunch date next Wednesday!
Question…What article or recipe are you most excited to read?