Hi friends! Welcome back to another mid-week news roundup. I'm so thankful you for could find time in your busy day to catch up.
Here's my collection of articles and recipes from the last week, from the end of the 3,500-calorie rule to healthy holiday cookies.
I hope you find this helpful!
What I'm Reading:
Food, Nutrition & Health:
Kitchen Techniques:
Behavior Change:
Fashion/Style (trying out a new category with you guys – like?)
Something Uplifting:
What I'm Salivating Over:
Breads & Muffins:
Apps & Sides:
Desserts:
Thanksgiving/Holiday:
(See you next year Thanksgiving recipe section!)
All of these recipes & many MANY more on my Pinterest page. Follow me!
Photos From the Week: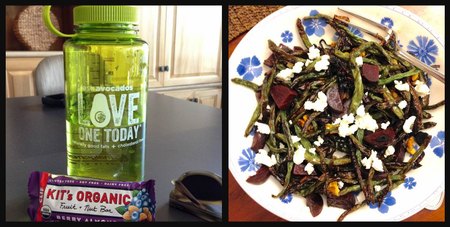 What I've Been Eating: (L): Snack time while working. Drinking water out of my favorite Nalgene, which Hass Avocados gave me at the Annual Food & Nutrition Conference. I love avocados! And a Kit's Organic Fruit + Nut Bar. (R): Make this side dish from Better Homes & Gardens. Trust me. And use goat cheese instead of feta.

What's Good at Target: Or honestly, what isn't good at Target? Loving these gold mercury glass-style votives, $1 drinking glasses, and initial mugs for holiday gifts, filled with homemade hot cocoa mix, a nip of peppermint schnapps and a chocolate stirring rod perhaps?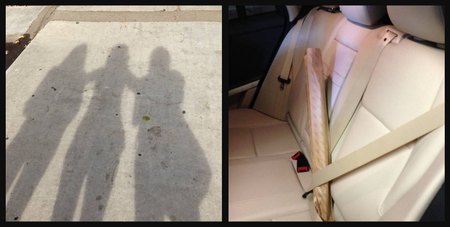 Where I've been shopping: The farmers market, with my mother and sister. (L) Our shadows as we walked toward the market. (R) My french baguette, seatbelted into the backseat so I wouldn't get crumbs all over the car! Don't laugh at me people with kids…I know it won't always be so clean, but I'll hold onto cleanliness for as long as I can!
Be well! I'll see you for another mid-week lunch date next Wednesday!