Hi friends! Welcome back to another mid-week news roundup. Thanks for finding time in your busy day to catch up.
Here's my collection of articles and recipes from the last week, from Thanksgiving shortcuts to the link between positive self-talk and weight loss.
I hope you find this helpful!
What I'm Reading:
Food, Nutrition & Health:
Mindfulness & Positivity:
For the Home:
What I'm Salivating Over:
Salads:
Soups:
Apps & Sides:
Main Courses:
Desserts:
Thanksgiving/Holiday:
All of these recipes & many MANY more on my Pinterest page. Follow me!
Photos From the Week: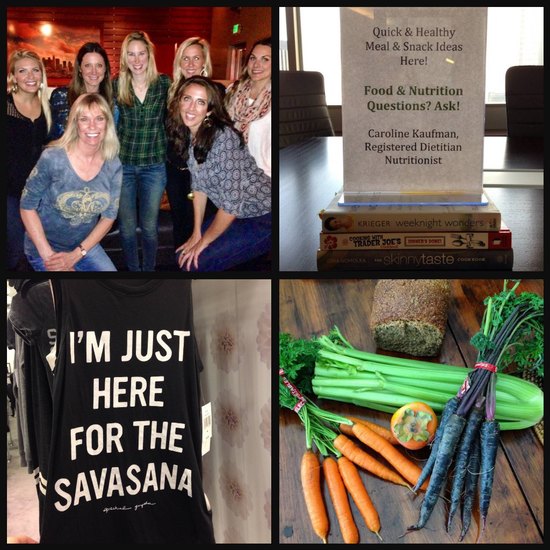 Clockwise from Top Left:
I had a really fun dinner with LA media RD friends McKenzie Hall (of Nourish RDs), Patricia Bannan, Lori Zanini, Ruth Frechman, and Laura Hershey and fabulous RD-to-be and blogger Whitney English (To Live & Diet in L.A. <–check out her blog!) We went to Hugo's in West Hollywood, which specializes in vegan & vegetarian food and is super accommodating to menu substitutions. And they serve champagne in mini-bottles. Which of course I had.
On Friday, I was the nutrition expert for a health fair at an investment bank. I brought along two handouts geared toward busy people who want to eat healthy: 20 snacks under 200 calories and seven 15-minute meals. I also displayed some of the quick-cooking cookbooks I own. My favorite is Weeknight Wonders by Ellie Krieger – all the meals are delicious, healthy, and under 30 minutes!
I picked up some great stuff at the farmer's market this weekend – lots of different colors, which all provide different antioxidants, vitamins and minerals.
And I just loved this shirt. Sometimes, you're just there for the savasana (a relaxation pose in yoga). And that's totally ok.

My flash tattoos (metallic temporary tattoo jewelry) came in the mail! They're so fun! The feather on my wrist is my favorite. They're really easy to apply and remove. Love 'em.

And check out page 201 in the December Cosmopolitan for my advice on how to stay Hot & Healthy this holiday season!
Be well! I'll see you for another mid-week lunch date next Wednesday!
And check back on Thursday for a recipe roundup on how to makeover Thanksgiving leftovers!