Hi friends! Welcome back to another mid-week news roundup. Thanks for finding time in your busy day to catch up.
Here's my collection of articles and recipes from the last week, from protein guidelines for kids and adults to homemade pretzel cinnamon rolls.
I hope you find this helpful!
What I'm Reading:
Food, Nutrition & Health:
Mindfulness:
Exercise:
What I'm Tweeting (follow me @sweetfoodie!)
If you think your child gets enough sleep, think again. Nearly 70% of children have a sleep problem. Source: Kids Eat Right
For a healthier Thanksgiving, make half your plate veggie sides (not you, creamed spinach), 1/4 protein and 1/4 grain/starch
What I'm Salivating Over:
Breakfasts:
Salads:
Soups:
Apps & Sides:
Main Courses:
Slow Cooker:
Snacks:
Desserts:
Thanksgiving/Holiday:
All of these recipes & many MANY more on my Pinterest page. Follow me!
Photos From the Week:
Clockwise from Top Left:
Inexpensive flowers from Trader Joes can really brighten up a room. I love these happy little irises, which bloomed overnight, surprising me in the morning!
I started a new notebook the other day, and put a fun sticker I got at the Food & Nutrition Conference on the inside cover. As an avocado lover, this sticker from Hass Avocados makes me smile whenever I flip open the cover.
Thomas Keller's roasted chicken is the best roast chicken I've ever made. And the easiest. You don't add any extra fat, no herbs or lemons stuffed inside. Just salt, a little pepper and a hot oven. In the end, you get a chicken with perfectly crisp skin hiding tender meat inside. Highly recommend. To minimize any splattering causing smoking/fire alarm noises, lay a piece of tinfoil on the top rack.
I love stamps! USPS has great ones for food lovers right now – one with celebrity chefs and another with scenes from the farmer's market. Yay!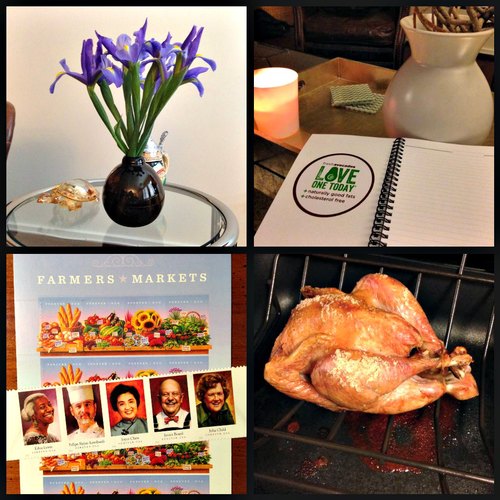 Be well! I'll see you for another mid-week lunch date next Wednesday!
Question: What's Your Favorite Thanksgiving Dish?