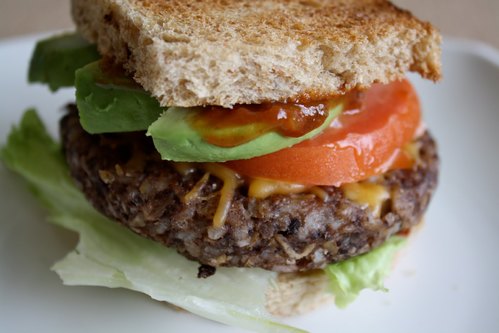 Calling all Meat Eaters, Veganistas, Flexitarians, and Whatever's in the Fridge-Grabbers – I've got a thick, juicy burger that you're all going to like. It's slathered in BBQ sauce, topped with melted cheddar, and loaded with crispy romaine, a fresh tomato slice, and chunks of ripe avocado. Oh yeah, and instead of meat, it's made with black beans.
I'm sure black bean burgers are easy to make from scratch, but they were also easy to buy at Whole Foods. I took the road more often travelled. You can find vegetarian burgers in the freezer section of most supermarkets – Morningstar Farms, Amy's Organics and Boca make a ton of them. Whole Foods was carrying a local variety called
GARYBURGERS
made by the brilliant folks up on Swan's Island, Maine. You're not going to find a single ingredient you can't pronounce in these juicy, moist burger patties. They're made with only rice, whole grain rolled oats, black beans, onions, ketchup, bread crumbs and spices.
Black bean or your favorite vegetarian burger
2 pieces of whole wheat bread
BBQ Sauce (Dinosaur is my favorite brand)
Romaine lettuce, washed and dried (1 leaf)
Tomato (1 slice)
Avocado (1/2)
Reduced-fat shredded cheddar cheese
Recipe/Assembly:
Make your own burger buns out of a low-cal, minimal-ingredient whole wheat bread. Just take a wide-mouth wine glass and press it into the center of two stacked bread slices. Push them through like a cookie cutter to create 2 low-carb, whole-wheat buns. Toast before assembling.
Spray oil in a skillet and on one side of the black bean burger patty. Place dry-side down on the skillet and cook on low heat until both sides are golden brown and soft to the touch. Right before you're ready to serve, sprinkle the cheese on top and cover until melted – about 1 minute.
While the patty is cooking, prepare the lettuce, tomato, and avocado. Cut the avocado in half and scoop out the meat with a spoon in one big swoop. Turn it over, flat side down on a cutting board and slice into medium-sized pieces.
Pour a small amount of your favorite BBQ sauce into a microwave-safe dish and microwave on high for 2 minutes. Stir.
Slather a "bun" with BBQ sauce and top with the lettuce. Add the cooked patty and layer with the tomato, avocado, and other "bun" covered in BBQ sauce.
Why Swapping Beans for Meat Is a Good Idea:
I don't think anyone should cut out their favorite foods, but I think it's a good idea to make healthy swaps most nights, so that when you want a burger for dinner, you can have it guilt-free.
Note: If you're looking for more protein, beans are a great way to get low-fat, low-sodium protein in your diet. Different bean burgers will contain different amounts of protein. While Gary's isn't very high, Morningstar Farm's black bean burger contains a whopping 17g! If you cook with canned beans, always rinse them to wash off the salt before cooking.