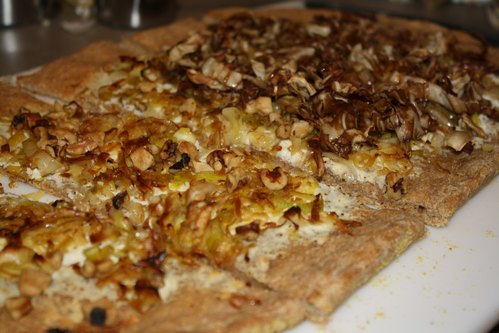 Sometimes I like to make everything from scratch, and sometimes I like to make half my meal from scratch so I can eat it faster.
This is one of those half-scratch-eat-faster times.
I admit it. I bought the dough. I did! I didn't bake it. I could have. I have a recipe for it. But I didn't.
Dissolving yeast and letting it stand, kneading, stirring, rising, punching, resting, dividing, and rolling were just 100% not going to happen on Wednesday night. But that's OK! I planned to make pizza, and pizza I made.
I found an **awesome** (so awesome it needed two stars) whole wheat dough at Kroger. It makes a thin, slightly crisp crust. It's called
Real New York Pizza Dough
and it comes in white and 100% whole wheat. You get two 16-oz balls of dough that you defrost in the refrigerator overnight before using. The ingredients are simple. It's mostly whole wheat flour, wheat protein, a bunch of vitamins and minerals, and olive and soy oil. You can also try your local pizza parlor, supermarket, or Trader Joe's for dough – just try to find a dough with the shortest, most basic ingredient list possible.
I wasn't sure how the radicchio topping would turn out, so in the photo, it's only on half my pizza. As it turned out, I liked it much better than the side without!
Leek, Ricotta, and Toasted Walnut Pizza Salad on a Whole Wheat Crust
(adapted from Cooking Light)
Ingredients:
Cooking Spray
1 tablespoon cornmeal
2 teaspoons olive oil
4 medium thinly sliced leeks (about 1.5 cups)
1/2-cup part-skim ricotta cheese
1/4-cup grated fresh Parmesan cheese
1/4-tsp salt
1/4-tsp black pepper
1 garlic clove, minced
2 small handfuls (pincer them!) chopped walnuts
1/2 head of radicchio, thinly sliced
Your favorite balsamic vinaigrette dressing
Recipe:
Preheat oven to 450 degrees F.
Roll dough to fit a baking sheet (about 14″). Place dough on baking sheet coated in cooking spray and cornmeal. Crimp edges of dough with your fingers to form a rim
Heat oil in a large nonstick skillet over low-medium heat. Add leeks and saute 10-15 minutes until soft. Cool to room temperature.
Combine cheeses, salt, pepper, and garlic in a bowl. Spread cheese mixture evenly over the dough, leaving 1-inch border. Top with sauteed leeks and sprinkle with walnuts. Bake at 450 degrees F for 15 minutes, or until cheese is lightly browned and crust is crispy.
Top pizza with radicchio and bake for 5 more minutes.
Remove from oven and drizzle with balsamic vinaigrette. Slice & Serve.