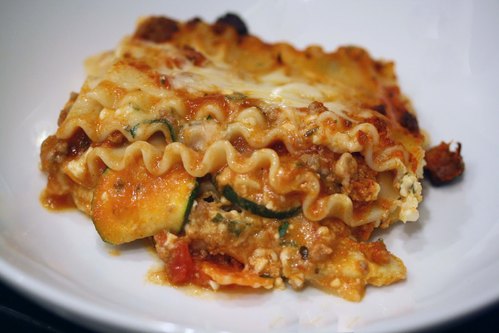 Some days you just want to eat something familiar and comforting. And warm and cheesy. And gooey and slightly browned on top. And tomatoey. And pretty. But still hearty and rustic. Some days you want to eat lasagna. And yesterday was one of those days.
Here's the deal – Yes, you can totally make this without the meat, or you can sub it for crumbled tofu, or use ground turkey, or turkey sausage (without nitrates), or vegan sausage.
BUT, if you're feeling ground beef – DO it.
If you don't have it very often and you're feeling it – have it. Eat it slowly and enjoy the combination of flavors. Start with a small piece. Go back for seconds if you're still hungry. Wait a few minutes. Still hungry? Give yourself permission to eat more. When you start to feel full and the lasagna doesn't taste as good as it did those first few bites, stop.
Eating mindfully, taking note of the flavors of your food, and giving yourself permission to eat until you are full will help you start to enjoy your meal more and avoid overeating. This is not a "cheat" meal – it's just a meal – and a good one at that.
Ingredients:
1 lb ground beef
1/2 cup water
1 24-26 oz jar of marinara sauce (try Barilla – it has a great flavor and thick consistency)
8 oz (1 bag) shredded part-skim mozzarella (measure 2 cups and leave the rest in the bag)
2 cups (1 16-oz container) lowfat cottage cheese
1/2 cup grated Parmesan cheese
2 eggs, lightly beaten
1/4 cup chopped fresh parsley
1/4 tsp ground black pepper
1 zuchinni, sliced
1 carrot, peeled and sliced
2 artichoke heart rounds, sliced thin
12 dry lasagna noodles (the regular ones, but you can sub the no-boil ones)
Recipe:
Preheat oven to 350° (or prepare lasagna ahead of time, cover & refrigerate and bake 80 minutes before serving).
Boil lasagna noodles according to package directions. Once they're drained, stack them in between sheets of parchment paper to keep from sticking.
While the noodles are boiling, lightly mist olive oil into a large non-stick pan. Cook ground beef over medium heat until brown and crumbly, stirring occasionally.
Add water and marinara sauce. Bring to a boil, cover, reduce heat, and simmer for 10 minutes. Remove from heat.
In a medium mixing bowl, combine 2 cups mozzarella and next 5 ingredients through black pepper.
Cover a 9×12 baking dish with aluminum foil.
Spread 1 cup meat-tomato mixture in the bottom of the baking dish.
Arrange 3 noodles over the mixture and top with 1/2 cup beef mixture.
Spread half of the cheese over the beef mixture.
Cover with all of the carrot, zucchini, and artichoke heart slices.
Repeat steps 8-9 until finished, ending with beef mixture on top.
Cover with tinfoil and bake at 350° for 40 minutes. Sprinkle with remaining mozzarella cheese, and bake, uncovered for 10 minutes or until cheese is bubbling. Let stand 10 minutes before serving.