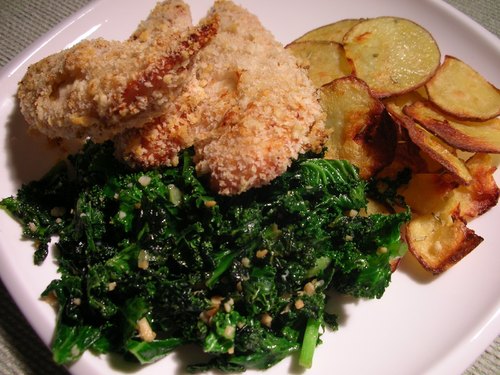 Tonight, I made myself a little feast. I really felt like home cooking, and after the decadent meals I had at La Coquina in Orlando for my sister's birthday, I was craving some greens.
The Menu:
Oven Baked Fried Chicken with Dijon mustard and panko breadcrumbs
Baked golden rosemary potato chips
Sauteed Kale with olive oil, garlic, and Parmesan
Oven Baked Fried Chicken:
1 pkg chicken tenders
Dijon mustard
Panko bread crumbs
Olive oil spray
Directions:
Preheat the oven to 400F
Put tinfoil on a baking sheet
Place tinfoil on your counter and cover in a layer of panko breadcrumbs
Squeeze some Dijon mustard in bowl with its own knife
Spread mustard on a chicken tender, place in the breadcrumbs and turn to coat. Place breaded cutlet on baking sheet. Repeat with all cutlets.
Spray top of cutlets with olive oil
Bake at 400 degrees F for approximately 45-50 minutes, or until the crust is brown and the juices are clear
Baked Golden Rosemary Potato Chips
Ingredients:
2 small Yukon gold potatoes
1 1/2 teaspoons dried rosemary
1 1/2 teaspoons sea salt
2 teaspoons olive oil
Preheat oven to 400 F (you can cook these and the chicken in the same temperature oven)
Thinly slice the potatoes (like chips!) and put them in a medium bowl
Roughly, and carefully (they fly!) chop the rosemary
Add olive oil, sea salt and rosemary to the bowl and stir until the potatoes are coated
Place the slices on a baking sheet lined with parchment paper and bake until they're dark golden brown on one side (about 10-15 minutes).
Flip 'em.
Bake on the other side until dark golden brown (about 10 minutes).
Sauteed Kale with olive oil, garlic, and Parmesan
Adapted from 101cookbooks.com
(MAKE THIS RIGHT BEFORE SERVING)
Ingredients:
4 cups of rinsed, roughly chopped kale (I bought it like that already at Shaw's)
1 tablesooon + 1 teaspoon of chopped garlic (yeah, I used the chopped garlic in a jar!)
2 tablespoons olive oil
1/4 cup of Parmesan cheese
Directions:
Put 2 tablespoons of oil in a large skillet on medium heat
When the oil is heated and looks like it's glistening, add the kale (it should sizzle), and stir it up for about 3-4 minutes. It will get greener and start shrinking. Sprinkle on salt to taste (about 1/2 tsp)
When it's smaller and greener in about 4 minutes, add the garlic and stir it up. You'll smell the garlic and it will smell delicious.
Let the garlic brown a tiny bit (about 2 minutes). If it stops smelling delicious, take it off the burner immediately.
When the garlic is browned, remove from the heat and stir in the cheese