I'm up in Burlington, VT now – yup, another foodie magazine internship – and have completely fallen for the place.
People up here, safe to say, take their food seriously – and that means everything about where it comes from to how it's thrown away. Every morning on my drive to work, I get to look out at beautiful pastures of grazing cows on one side and Lake Champlain with the Adirondack mountains behind it on the other. Saturdays are farmers market days, and there is a bounty of vegetables, cheese, pastries, and crafts. I love wandering slowly, often to the sounds of a vendor playing his violin or singing with a guitar, and admiring (and sampling) everything.
When I get back, my fridge is generally full to the brim with goodies. And then I have to decide what to make with everything! As usual, I like to make things that combine fresh food with prepared stuff I get ar the market. For lunch on Friday, I combined fresh vegetables – including some beautiful heirloom tomatoes – with pre-made grape leaves and tzatziki. I don't usually find salad enough to fill me up, so I brought along some French bread with the center scooped out – a perfect resting place for the salad…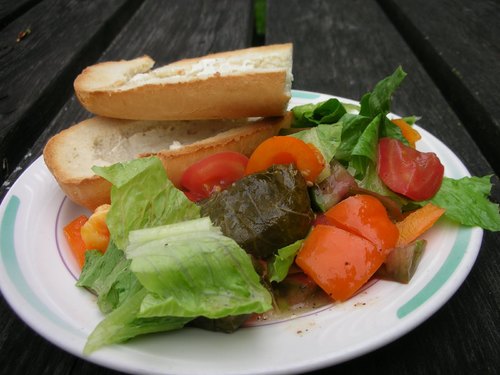 For the most part, this is a "what do I have in my refrigerator" salad. So, throw as much of each vegetable as you feel like in there!
Prepare ahead of time:
1 Yellow pepper, roughly chopped
2 Tomatoes (I used a few slices of red tomato and a gorgeous zebra-striped heirloom), roughly chopped
A few pieces of romaine lettuce, rinsed, dried, and roughly chopped
2 store bought Stuffed Grape Leaves
1 baguette – cut off the size you want to eat, slice it in half, and scoop out the center
Bring to work/school separately:
Salad dressing (bring it to work – don't put it on in the morning or you'll wind up with a soggy salad)
Tzatziki – a Greek cucumber yogurt dip – find it near the hummus in the refrigerated section
When you're ready for lunch, toast the bread if you can, and toss the salad in dressing. Spread about 1 tablespoon of tzatziki on each half of the baguette. If you'd like, you can put some salad in a baguette and mash a grape leaf on top. Open-faced sandwich deliciousness!