If you're thinking about baking for the holidays, these giant cookies will make beautiful gifts. While they're not fall-flavored, they will make anyone feel like a kid on christmas morning again. For now, try a batch and see what you think.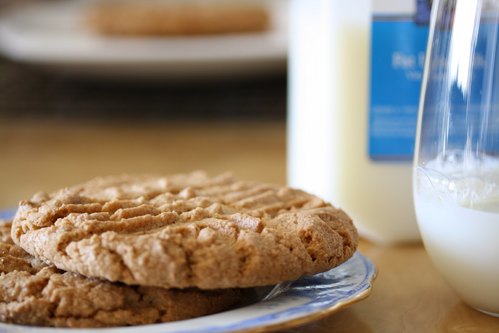 If you want to make classic peanut butter cookies – no fancy tastes or flavors – than you've found your recipe.
My Notes:
You'll need to chill these for 30 minutes before baking so don't make them in a time crunch.
An ice cream scoop is a great way to get consistent sized cookies. They'll look professional and take the same time to bake so you don't risk burning or undercooking some.
Keep a cup of water next to you while you're scooping dough. Rest your ice cream scoop in the water during batches to prevent the pb from caking or in between scoops to keep the batter from sticking. Do the same with your fork.
Save yourself some cleanup time by covering your counter with tinfoil before starting to bake. When you're done, fold it up and throw it away. No stuck-on flour and pb mess!
Classic Peanut Butter Cookies
Adapated from Martha Stewart
Makes 24
Ingredients:
2 1/2-cups all-purpose flour
1 1/2-teaspoons baking soda
1/2-teaspoon salt
2 sticks of unsalted butter, softened
1 cup granulated sugar
1 cup packed light-brown sugar
2 large eggs (cracked in a separate bowl)
1 1/2-cups smooth, creamy peanut butter (for best results, don't use all-natural pb)
Preheat oven to 350 F. Whisk flour, baking soda and salt in a medium bowl.
Cut butter into pats and microwave for about 15 seconds to soften. Combine butter and sugars in the bowl of an electric mixture with paddle attachment. Mix on medium speed until pale and fluffy – about 2-3 minutes. Mix in eggs, and then peanut butter.
Reduce speed to low and gradually add flour mixture until just combined. Cover with plastic wrap and refrigerate 30 minutes.
Using a 1 1/2-inch ice cream scoop, drop dough into baking sheets lined with parchment paper, spacing about 2 inches apart. Press cookies with fork tines (slightly pressing and dragging at the same time) to flatten and make a cross-hatch pattern.
Bake until golden brown, 14-18 minutes (depends on your oven). Let cool on baking sheet for 5 minutes, then transfer to a wire rack until completely cool. You can store this in an airtight container for 3 days at room temperature (if they last that long).
Mixing in the peanut butter:

Rest your ice cream scoop in a cup of water to keep it from getting sticky:

Creating the cross-hatch: