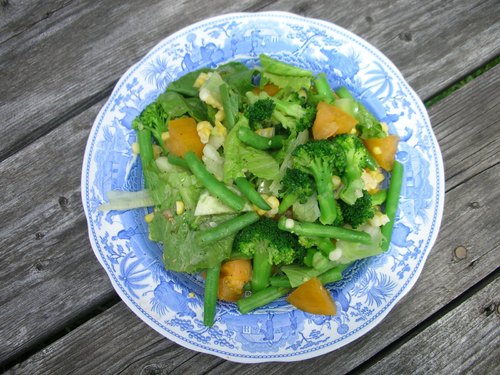 I made this salad in the morning before I left for work. It took about 15 minutes from start to finish. It's best to make it in the morning otherwise you might end up with some soggy veggies by lunchtime. icky.
Ingredients:
1 Ear of sweet corn
1 Handful of green beans
1 Small head of broccoli
3 Leaves of romaine (or your favorite) lettuce
1/2 Tomato, chopped
Your favorite dressing (I'm still using that Newman's Own Italian – tried and true)
1 Hunk of french bread, cut in half.
Tabbouleh (take it in its container to work. Spread on at lunchtime)
 Instructions:
Set a large pot of water on the stove to boil.
Set a small pot of water on the stove to boil.
Shuck the corn and cut off any funky bits you see on the ends.
While you're waiting for the water to boil, rinse and dry the lettuce. Cut up the tomatoes. Wash and chop the broccoli into small trees. Cut off the ends of the green beans.
When the small pot boils, throw the green beans in for about 1 minute. When they turn bright green, remove and rinse in cold water immediately. (you've just blanched them). Next, toss the broccoli in for about 2 minutes to soften them up. Rinse in cold water.
When the big pot's boiling, throw the corn in and cover it. Boil for about 5 minutes (more or less depending on how soft you like the corn. I think 5 is just right).
Remove the corn and when it's cool enough (using your hand or a fork to hold it upright) cut the kernels off using a knife. Just take the knife and run it along the corn from top to bottom, shearing the kernels.
Toss everything in a Tupperware container. Stash the Tupperware, a bottle of salad dressing, the container of tabbouleh, and the baguette in a bag and hurry off to work.
At lunchtime:
Toss your salad with dressing
Toast your bread (if you can) and smother in tabbouleh
Show your friends how delicious your salad looks
Eat!