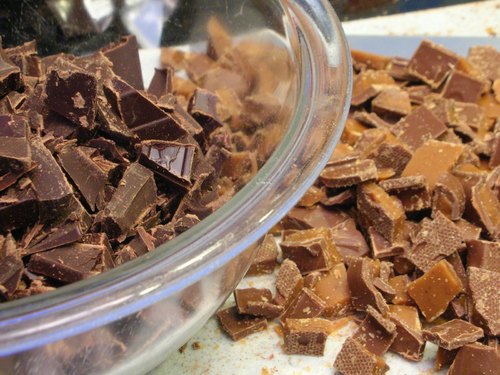 Exams are finally over and I'm back in the kitchen. When I was studying for my last final, econometrics-bah!, all I could think of was how much I wanted to spend a day in my kitchen baking and listening to good music. (good is relative here. My type of good music while baking includes hits like Me Love by Sean Kingston, How Can We Be Lovers by Michael Bolton, Paul Simon, Pat Green, and some Motown).
The first thing I baked was Smitten Kitchen's Chocolate Toffee Cookies. These cookies take a lot of time and a lot of dishes – two things I did not realize from the outset. They are definitely worth it, but when I started them at 5:30 planning to take them to an 8:50 movie, I didn't realize I would be running out the door 20 minutes before showtime with still warm cookies in my hand. These are a bit of a project, but they come out like gooey brownies flecked with toffee bits and crunchy toasted walnuts…sooooo…YUM.
Here are the ingredient's you'll need:

Now, the recipe calls for chopped semisweet (or bittersweet) chocolate, so I bought the big bars and chopped them with my knife. That's a fair amount of time right there. In my opinion, since they're just getting melted down, you can just go ahead and use a pound of semisweet chocolate morsels (chips) instead. Saves you a ton of time and mess. They may not make chocolate chips that have the same % cocoa as chocolate bars – so it'll be a trade-off between time saving and richness.
Also, SK recommends you sprinkle some flaky sea salt on top. I didn't have any but she recommends Maldon if you want to try it. (I have an order on its way to me!)
Handy tools: whisk (to stir the flour mixture); parchment paper (to line your baking sheets); ice cream scoop (to measure sticky cookie dough and force it onto the pan!)
Chocolate Toffee Cookies
(adapted from Smitten Kitchen's recipe)
Ingredients:
1/2 cup all purpose flour
1 teaspoon baking powder
1/2 teaspoon salt
1 pound (16oz) bittersweet (not unsweetened) or semisweet chocolate, chopped OR 1 pound semisweet chocolate chips
1/4 cup (1/2 stick) unsalted butter
1 3/4 cups (packed) brown sugar
4 large eggs
1 tablespoon vanilla extract
5 1.4-ounce chocolate-covered English toffee bars (such as Heath), coarsely chopped
1 cup walnuts, toasted, chopped
Flaky sea salt for sprinkling (optional)
Toast the walnuts by preheating your oven to 350 and spreading a piece of parchment paper on your baking sheet. Spread the walnuts evenly on the pan and bake in the oven for about 12 minutes. Turn them with a spatula after 6 minutes. The walnuts will turn a warm golden color and smell delicious.

Whisk flour, baking powder, and salt together in a small bowl. Set aside.
Stir butter and chocolate together in a double boiler. (I nestled two pots together. Just fill the bottom pot with water until it just touches the top pot and heat on medium, stirring constantly once the chocolate starts to melt). Once melted, remove the top pot and set aside to let the chocolate cool.
Using an electric mixture, beat brown sugar and eggs until thick, about 5 minutes (use speed setting 6 if you've got a KitchenAid stand mixer). Beat in melted chocolate and vanilla extract.
Stir in flour mixture, toffee, and walnuts. Chill batter until firm.
Preheat oven to 350. Line 2 baking sheets with parchment paper and drop batter by spoonfuls (or ice cream scoopfuls) onto sheets about 2 inches apart. Sprinkle with sea salt (optional).
Bake until the tops are dry and cracked but the inside is still soft – about 15 minutes. Cool on sheets.
,>