I'm going to a potluck Passover dinner tonight at a friend's house, and am bringing dessert. I used David Lebovitz's recipe for Chocolate-Covered Caramelized Matzoh Crunch.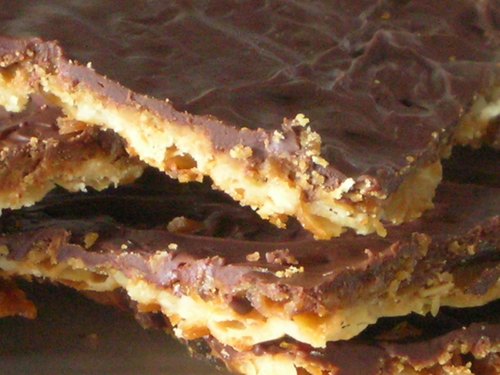 His recipe is fast & easy and requires minimal effort…but the results are utterly decadent. Jewish or not – grab a box of matzoh and cook up a batch. They crunch and break apart when you bite 'em and leave a warm buttery chocolate taste in your mouth. I'm actively trying to stop "taste testing" them so there will be enough for me to bring! mmmm.
The one change I make to David's recipe is adding more chocolate chips. I love chocolate, so instead of the 1 cup he calls for, I added about 1 1/2 – 2 cups.
I also recommend getting an offset spatula to spread the melted chocolate. I saw a teeny one on sale a few months ago and bought it thinking one day it might come in handy. Even though it's mini, it did the trick. Plus, it's non-stick and easy to store.